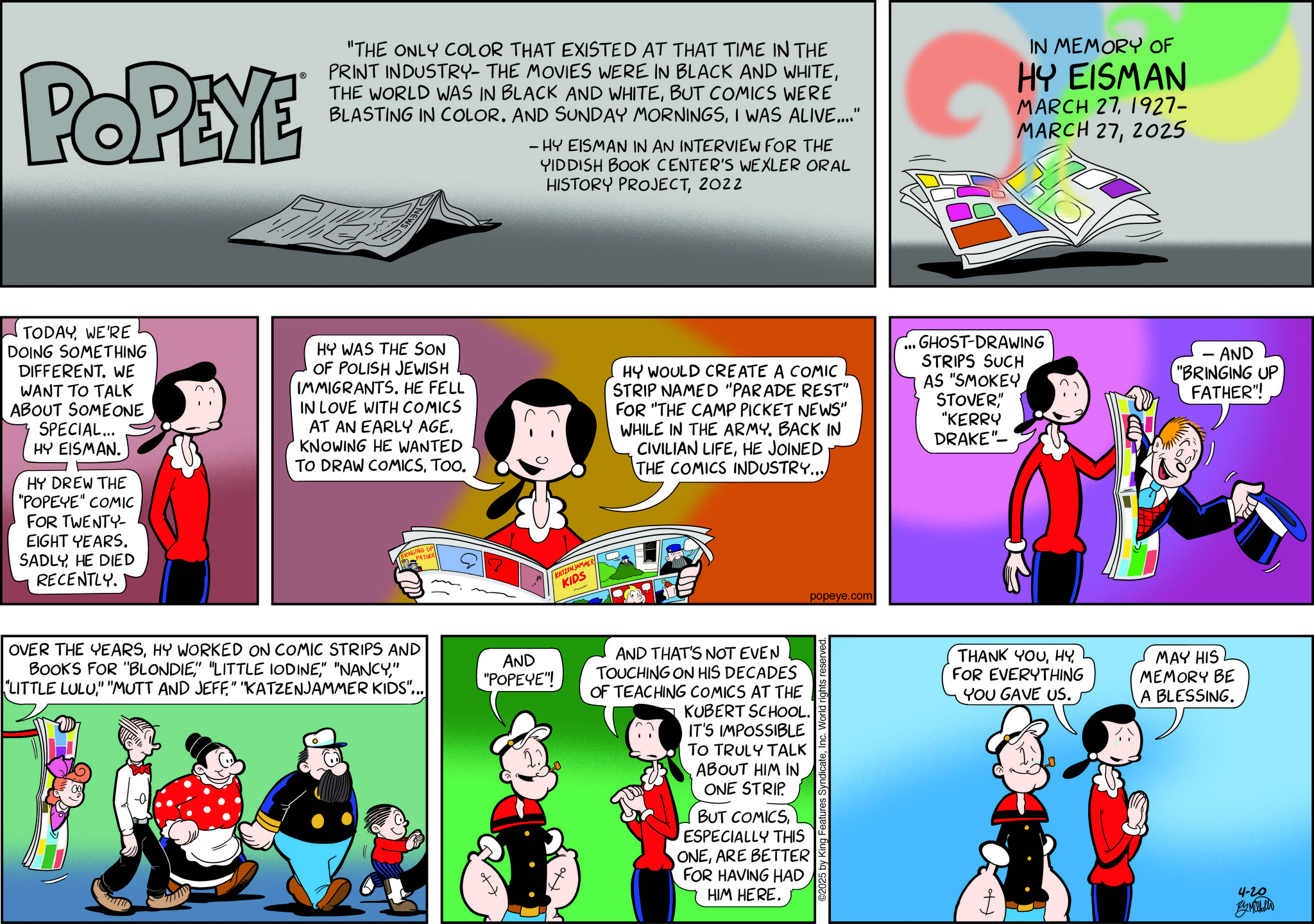 Visit Comics Kingdom for more
Popeye comics
"Popeye is much more than a goofy comic character to me, he represents all of my emotions and he is an outlet for them…to me Popeye is really a serious person and when a serious person does something funny — it's really funny." - E.C. Segar
"The squinting sailor, ever the underdog, still musters his can-do moxie and flexes his belief in helping others with a timeless relatability." Michael Cavna, The Washington Post
On January 17th 1929, E.C. Segar introduced Popeye into Thimble Theatre's cast. With a simple "Ja think I'm a cowboy?", Popeye went from a supporting character to the star of the comic strip, and eventually into animated adventures produced in different eras by Fleischer Studios, Famous Studios and King Features.
Following Segar's passing in 1938, the Popeye comic was taken on by several different cartoonists, most notably Bud Sagendorf, who took on the comic's creation from 1957 until the 1990s. Later on, Hy Eisman took it over and continued delivering Sunday Popeye strips to readers through spring of 2022. Randy Milholland is the latest cartoonist to pick up the reigns, bringing his personal style to the strip while remaining true to Popeye's legacy. He introduces bold lines, bright colors and quirky character designs to the comic but is also focused on reminding readers that Popeye is a multi-dimensional character – more than big forearms that are powered by spinach.
Return here each Sunday for the exciting new adventures of Popeye and his friends. The Popeye Sunday Comic consists of first-run installments, written and drawn by R.K. Milholland. Seeking the Popeye comic archive? Click here.