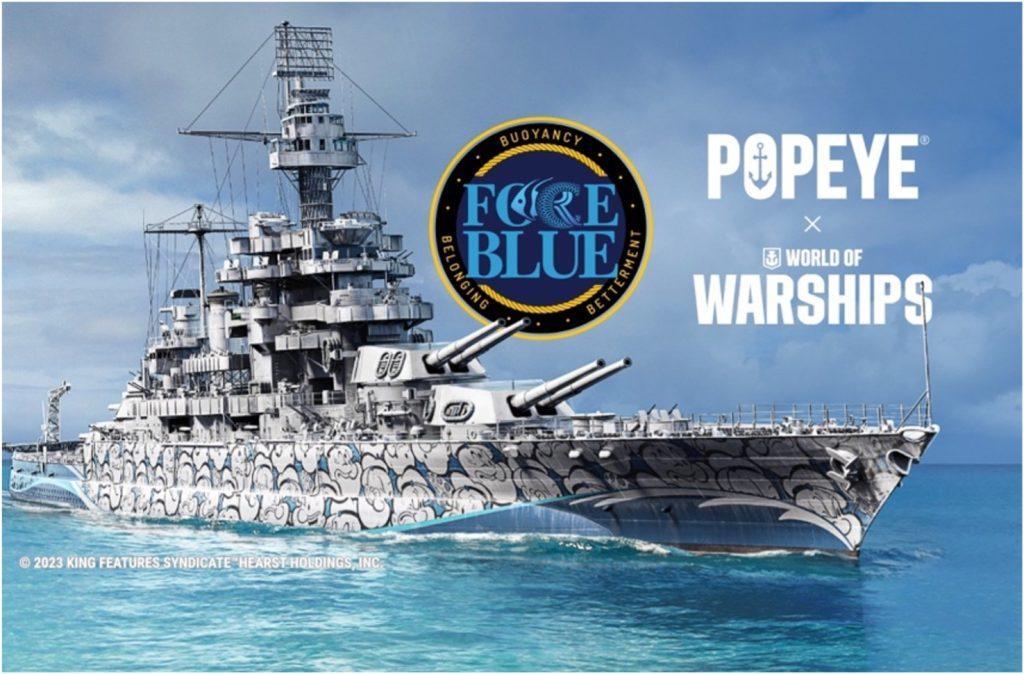 Force Blue x World of Warships
Popeye Battles Ocean Pollution
World of Warships launches new game which features Popeye and Bluto fighting it out, but the real win is the program's give back partnership with Force Blue.
This cause unites the community of Special Operations veterans with the world of marine science and conservation, to create a transpartisan model of caring, cooperation and positive change with the power to restore lives and restore the plane.
WOW made a $50K donation Force Blue and 10% of all Popeye product sales will also go to the organization.
Popeye x The SeaCleaner's Partnership
Popeye has joined The SeaCleaners' fight against plastic pollution and serves to raise awareness of their worldwide ocean conservation/clean-up efforts. Together Popeye and The SeaClearners are working together to achieve the organization's goals:
1. Educate others on the importance of plastic pollution
2. Take action on clean-up efforts while developing and widely disseminating scientific knowledge
3. Evolve and mobilize all publics to bring about lasting changes in behavior
The Boats Worth Boasting About
The Manta: Gearing up to launch in 2025, this first-of-a-kind processing ship is designed to collect, treat and repurpose large volumes of floating plastic debris present in highly polluted waters, along the coasts, in estuaries and in the mouths of large rivers.
The Mobula 8: This versatile and innovative multi-purpose boat for calm waters recently took its efforts to Bali in March of 2023. Working with local authorities, associations, and entrepreneurs, The SeaCleaners completes the curative action of the Mobula 8 with a comprehensive field project (waste collection, waste management, awareness raising and training of local communities, technical assistance, and scientific research
Taking Action in Aquariums
The SeaCleaners are now putting on sensitization workshops in aquariums to further increase public awareness on plastic pollution. The impressive program includes, turnkey animations, fun games and activities, training sessions, events, social media visibility.
FACT: There will be more plastic than fish* in the ocean by 2050 if we do nothing.
*by weight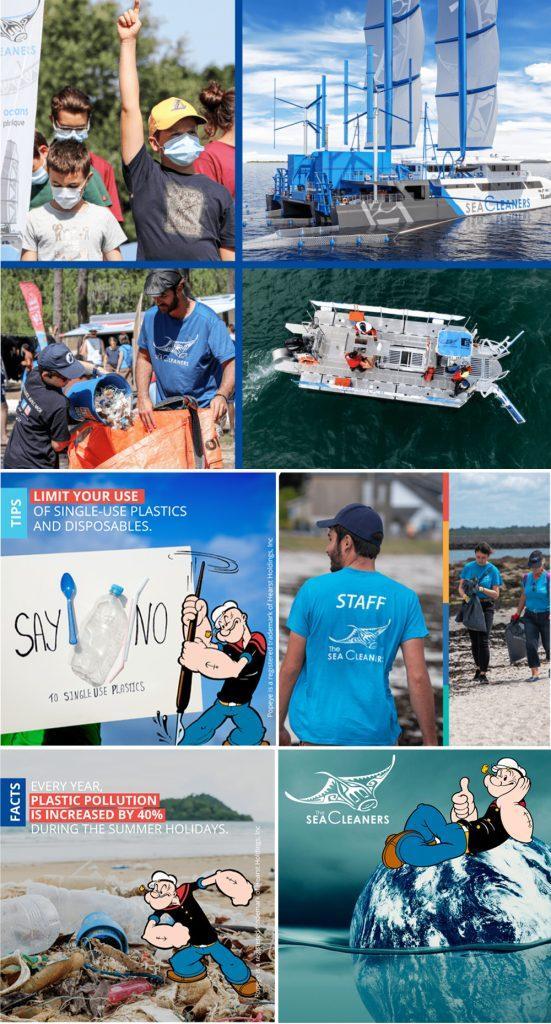 Don't Miss The Action! Follow Along Here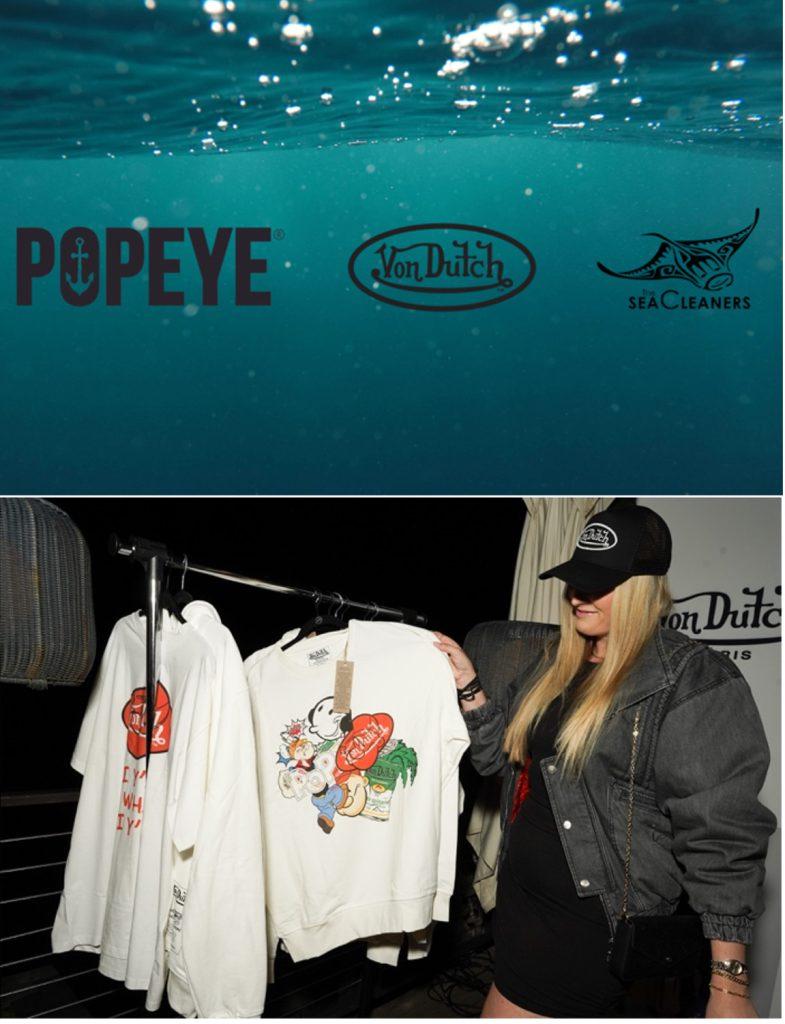 Partnerships With Purpose
Von Dutch x Popeye x The SeaCleaners Collab
Together Von Dutch and our Sailor Man teamed up to create a custom eco-designed collection in support of the ocean-cleanup organization, The SeaCleaners. Always curated with comfort and design detail in mind, this collaboration focuses on a sustainable line of clothing.
Crafted with raw organic fibers & materials that have been produced per global organic standards, the collection was a hit. It also had support from an organized influencer event which took place in Manhattan Beach. Influencers picked out their favorite pieces and promoted the collab on social media.
Angry Birds Joins the Fight
Popeye x Angry Birds Friends Host a Themed, In-App Tournament
The week long competition included 24 levels of game play and added game messaging by The SeaCleaners. Throughout the 7-day tournament, players were tasked with stopping Bluto and the piggies from polluting while collecting plastic waste in the game. As players advance through the game, they were learning unique and eye-opening facts around how our oceans are impacted by waste.
Results:
1.1 million players participated in the tournament
2.7 million impressions on the awareness messages
3.5 million views on social media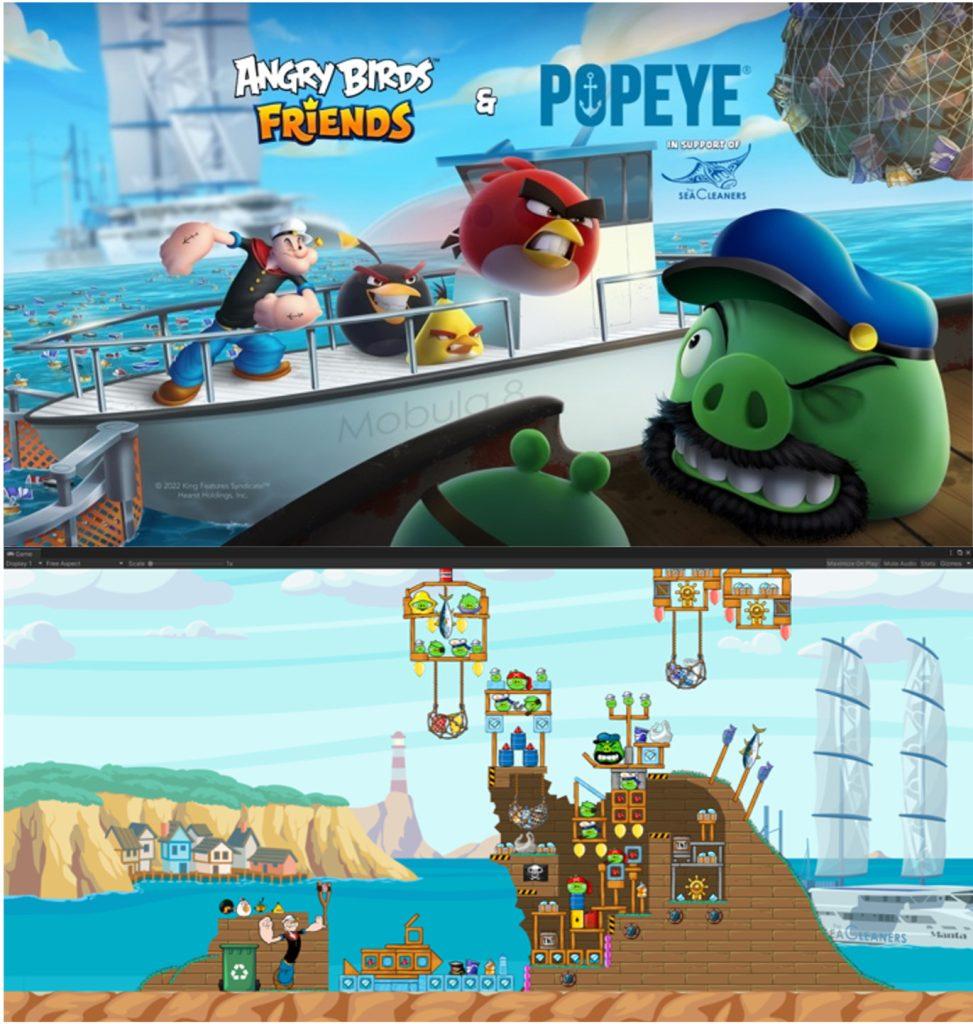 Eco-Friendly Fashion