Von Dutch Teams Up with our Buddy Popeye and The SeaCleaners for a Custom Collection Supporting the Fight for a Pollution-Free Ocean.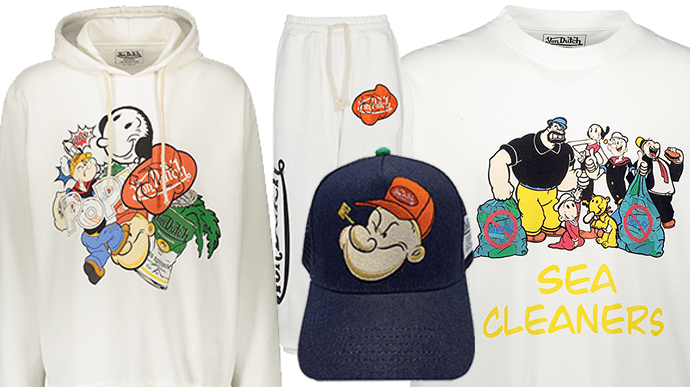 I must admit, I love to provoke my buddy ol' pal Popeye into fighting so I have some entertainment while I enjoy my burgers. Who doesn't love dinner and a show? However, I didn't have to get him going this time. Popeye is very passionate about fighting for our oceans and he's teamed up with two brands that feel the same way.
Von Dutch, a Hollywood heritage brand, is launching a custom apparel collection featuring our good buddy, Popeye, in support of ocean-cleanup organization, The SeaCleaners.
The collection is quite impressive and I would love one of the pieces myself (especially the gorgeous shirt where I am featured)…Perhaps you can get me one and I'll pay you back next Tuesday?
The Von Dutch x Popeye Collection will be available for purchase Nov. 17 exclusively at specialty streetwear shops, select retailers, and vondutch.com.
Watch below to learn more about how The SeaCleaners plan to change our world.
Don't forget to check my blog for more news every Tuesday! I'll be here paying my debts…