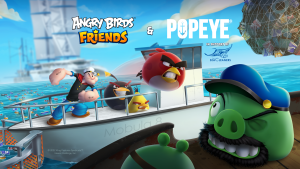 King Features and Rovio Entertainment Unite the Iconic Sailor Man With
Angry Birds Friends in Weeklong Tournament in Support of The SeaCleaners
NEW YORK, JANUARY 28, 2022 — Popeye the Sailorman and video game developer Rovio Entertainment today announced a partnership for an all-new, co-branded Angry Birds Friends x Popeye tournament in support of ocean clean-up organization, The SeaCleaners. Running from January 31 to February 6, the tournament contains 24 Popeye-themed levels of competition alongside in-game ocean conservation messaging from The SeaCleaners.
Throughout the seven-day tournament, players will be tasked with stopping Bluto and the piggies from polluting while collecting plastic waste in the game. As players advance through the game, they will learn unique and eye-opening facts about how our oceans are impacted by waste. For example, according to The SeaCleaners, every year between 9 and 12 million tons of plastic waste is tipped into the ocean. To combat this, the organization advises players in the game to avoid single-use plastic by choosing reusable bags and bottles and plastic-free packaging.
Additionally, The SeaCleaners will host a giveaway where players will have the chance to win Bird Coins that can be used to purchase items in Angry Birds Friends such as power-ups, Mighty Eagles, avatars and more. For a chance to win, players will be invited to answer four questions about plastic pollution, which can be found on The SeaCleaners' website. Winners will be chosen at random the week after the tournament concludes.
Launching on Monday, January 31, the Angry Birds Friends x Popeye tournament is available in 13 different languages including English, Spanish, German and more.
Angry Birds Friends is available in the App Store and Google Play. View the YouTube link for the tournament trailer.
About Rovio
Rovio Entertainment Corporation is a global mobile-first games company that creates, develops and publishes mobile games, which have been downloaded over 5 billion times. Rovio is best known for the global Angry Birds brand, which started as a popular mobile game in 2009, and has since evolved from games to various entertainment, animations and consumer products in brand licensing. Rovio has produced "The Angry Birds Movie" (2016), and its sequel, "The Angry Birds Movie 2," was released in 2019. The company offers multiple mobile games and has seven games studios — two in Espoo (Finland), one in Stockholm (Sweden), Copenhagen (Denmark), Montreal and Toronto (Canada), as well as a subsidiary in Izmir (Turkey) called Ruby Games, which was acquired in 2021. Most of the employees are based in Finland where Rovio is headquartered. The company's shares are listed on the main list of NASDAQ Helsinki stock exchange with the trading code ROVIO.
(www.rovio.com)
About The SeaCleaners
Created in 2016 by Franco-Swiss skipper Yvan Bourgnon, The SeaCleaners acts for the long-term conservation of the oceans and the reduction of plastic pollution. The organization develops actions both at sea and on land. Their innovative solution is called The Manta, which will be the first deep-sea vessel capable of collecting and mass-treating floating ocean waste before it becomes fragmented.