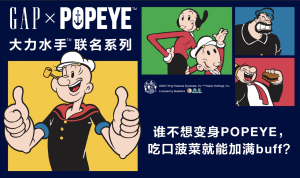 GAP Partners with Medialink to Launch Special Edition Apparel Collection Inspired by the Classic Character POPEYE
Launching this summer, GAP the globally recognized iconic casual wear brand, will be teaming up with Medialink Animation International Limited, a wholly owned subsidiary of Medialink Group Limited (2230.hk) (together "Medialink Group"), the leading dynamic market mover of media content distribution and brand licensing in Asia, to introduce a collection of fashion items featuring characters from Popeye.
The collection includes t-shirts and tops for men, women and kids, allowing the whole family to enjoy the adventure and excitement of the legendary, Popeye. The special edition short-sleeve cotton t-shirts are adorned with colorful designs, and each of the characters are vividly shown around the GAP classic logo. Popeye with his iconic canned spinach, romantic Olive Oyl, and Bluto, Popeye's mischievous rival, make the collection both fun and nostalgic, reminding consumers of their childhood days.
The selection of fashion items featuring Popeye will be available from mid-June online and in GAP stores.
The collection will be available online at https://www.gap.tw/plp/19082100002377.html?tags=POPEYE
About Medialink Group Limited
Medialink Group Limited (2230.hk) is a leading dynamic market mover of media content distribution and brand licensing headquartered in Hong Kong with presence in China, Japan and South East Asia with its own Ani-One® anime platform in the region and over 1.51 million subscribers and more than 153 million views on its YouTube channel; edutainment VOD Ani-Kids™ channel and e-commerce platform Ani-Mall™. Medialink Group has been engaging in the business of media content distribution for over 26 years, and also operates the brand licensing business.