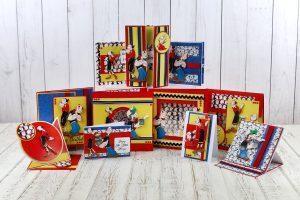 Having recently celebrated his 90th anniversary, Popeye remains as popular as ever. Create and Craft has teamed up with Bulldog Licensing to launch an exclusive new die and craft collection around the much-loved character and his friends.
Launching Monday, 31st May on the Create and Craft TV channel and website, the collection will centre around Popeye and his friends Olive Oyl and Bluto, as well as a range of colourful paper products ideal for card making including charisma, backing papers, cardstock and stamps. As a bonus for crafters looking to sell or share their Popeye makes, the licensed collection has an 'angel policy', which will let them sell up to 100 items per project annually rather than restricting them to gifted sharing only.
Don't miss the new Popeye  launch on May 31st on Create and Craft TV (Sky, Freeview and Freesat), Ideal Extra and Create and Craft Extra (Sky/Freesat) and via the website at www.createandcraft.com.
About Create and Craft TV
Create and Craft, part of the Ideal Shopping Direct Group – the No1 direct retailer in craft in the UK – is an award-winning multi-channel craft retailer. Create and Craft broadcasts live on TV and online in the UK and US to more than 70 million homes. It offers paper craft, jewellery, sewing, cake decorating and knitting products. Create and Craft won GOLD in seven categories at the 2016 International Craft Awards including Best TV Shopping Channel for Crafts, Best for Quality, Best for Customer Service, Best Website and Best Online Shop.