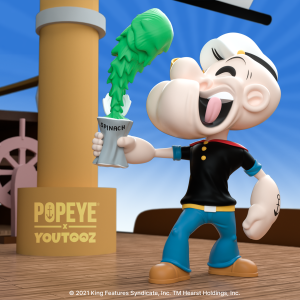 Youtooz latest collaboration with King Features Brings Popeye to 'Real Life'
Youtooz, the company turning nostalgia and internet culture into amazing products that people love, today announced its latest collaboration with Popeye & King Features, a unit of Hearst Newspapers and home to some of the world's most popular entertainment characters. A five-inch vinyl Popeye the Sailorman collectible figure, complete with spinach in hand, is the latest product launched by the two companies.
Inspired by the buzz around Popeye's 90-year anniversary in 2019, Youtooz decided timing was perfect to add Popeye to the roster of other Youtooz nostalgic icons like Arthur and Bob Ross.  The sculpt was designed to capture one of his most iconic and well-known actions — eating spinach to get 'Popeye strong.' The new Popeye figure was developed through joint teamwork to ensure that its style and design would capture the essence of the Popeye brand, highlighting those timeless elements of his character that most resonate with consumers.
Youtooz x Popeye is available today for pre-order via Youtooz's website.
Youtooz has tapped into its buzzing online community to build a growing universe of limited-edition figures, plushies and more that capture the best moments of internet culture. To learn more about Youtooz and explore the joy of the internet, visit www.youtooz.com.
About Youtooz
Youtooz turns the joy of internet culture into amazing products that people love. A consumer product company, Youtooz captures the best moments of the internet and brings them to life through high-quality, unique product drops. The company seeks inspiration from its community and content creators across the internet, and works together, along with its IP and License partners, to create collectibles, plushies and other products that bring joy to everyone. Since its launch in 2019, Youtooz has released more than 300 unique figures and believes that together, we can create joy in anything. To learn more, visit www.youtooz.com, and check us out on social on our Twitter and Instagram.