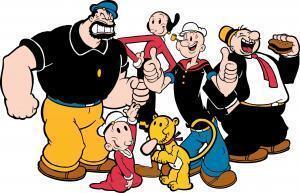 Popeye teams up with Fred & Ginger to bring a pet line to homes across the country!
Design-led pet product manufacturer, Fred & Ginger, has signed up to create a range of pet treats and accessories based on heritage animation brand, Popeye. The deal was brokered by leading European agency, Bulldog Licensing, and joins a growing consumer products portfolio in the UK.
Fred & Ginger is set to create a full collection of feeding mats and bowls, pet beds, toys, accessories, collars and leads, along with a range of treats, including Easter eggs and advent calendars, and pet snacks inspired by the world's favorite strong man, Popeye.
The latest deal joins an expanding licensing program, with two new deals announced at the end of last year, Ecell and Ideal Home Shopping for tech accessories and crafting lines respectively. Additionally, both Fashion UK and Bro Global have renewed their deals for the iconic character. The offering now spans a range of categories including apparel, accessories, dress-up, and Bulldog plans to further strengthen the portfolio in the near future.
For more information about Fred & Ginger, please visit thttps://www.fredandginger.net