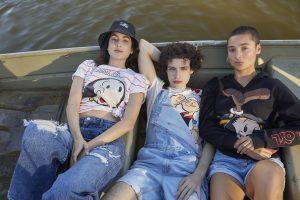 Every year, C&A makes a splash for Valentine's Day with new collections that showcase love and friendship in all of their shapes and forms.
This Valentine's Day, one of pop culture's most iconic couples, Popeye and Olive Oyl, are taking the spotlight in a playful apparel collection!
C&A, in partnership with King Features Syndicate, a unit of Hearst and home to some of the world's most popular entertainment characters, today announced a special collection that will allow adults and children to celebrate love and friendship through an assortment of fun and flirtatious styles starring one of animation's longest-running romances.
The Popeye and Olive Oyl collection includes t-shirts and sweatshirts for men, women and children in different fits, with a variety of prints and textures. Complimentary designs, such as Popeye in love and Olive pining for him, will let fans coordinate their look with their partner or squad of friends.
Urban looks and seasonal trends alike have shown that C&A's denim, including basic jeans, overalls and jean jackets all 100% made in Mexico, make a perfect pairing for these Valentine's Day garments. Customers can complete their look with C&A's sneakers, available in a range of popular colors.
During this season, love and friendship are in the air every day at C&A, and the new Popeye and Olive Oyl collection is sure to make this year a memorable one by helping couples and friends celebrate their love with matching outfits and unique styles.
Available February 1-14, the collection will be sold in C&A stores and the C&A online store.
About C&A:
C&A México is a brand that designs, develops and markets accessible fashion in a responsible way, paying special attention to the needs and styles of the Mexican market. It seeks to surprise clients and investors by being a positive force with what they do, and in the way they do it. It currently has 76 branches in the interior of the Mexican Republic.
For more information visit: http://www.cyamoda.com