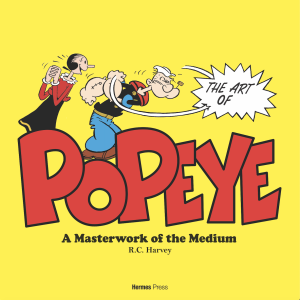 To celebrate Popeye, Hermes Press is publishing "The Art of Popeye: A Masterwork of the Medium"
This 300 plus page book features a comprehensive essay written by pop culture historian R.C. Harvey accompanied by over 350  illustrations of original strip and comic book art, animation art, illustrations, advertising art, products, the Robert Altman film, and everything Popeye. Every aspect of Popeye is explored, from Olive Oyl and Eugene the Jeep to Wimpy and Bluto.
    This new comprehensive history is a must for fan's all over. Grab a can of spinach, and get ready to live through the super-powers of Popeye!
Preorder the book here: https://hermes-press.myshopify.com/products/the-art-of-popeye-a-masterwork-of-the-medium-pre-order