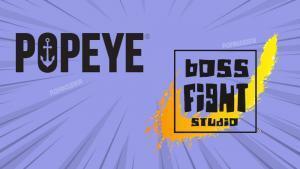 Popeye Expands Action Figure Licenses With Boss Fight Collaboration
Ahoy! Popeye fans should make some room on their shelves because Boss Fight Studio has new figures on the way, featuring the iconic sailor man and his friends.
Boss Fight Studio, creator of fan favorite action figures, announced today they had acquired the license to make action figures and collectibles of the iconic Popeye The Sailor comics and cartoons. The deal, brokered by FanGirl Consulting and Brand Management, with King Features, is the latest in a great lineup of cult classic brands already in the Boss Fight arsenal, including Flash Gordon and The Phantom.
The first wave of Popeye Classics action figures, anticipated to hit shelves Late Summer 2021, will include Popeye, Olive Oyl, Bluto and Castor Oyl.  The Popeye Classics figures will bring a new cult favorite to life and be a great complement to the Boss Fight arsenal of licenses. "
About Boss Fight Studio
Boss Fight Studio (BFS) is a creator-owned company focused on high-quality, collectible toys. BFS products are known for having multiple articulation points, which allow for innovative and creative poses. The H.A.C.K.S. line is also fully customizable, which empowers collectors to build their own characters using pieces from the range. For more information reach out to BFS at press@bossfightstudio.com or visit bossfightstudio.com