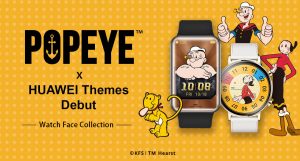 Popeye continues to be a pop culture favorite across China.
In June 2020, King Features, a unit of Hearst, along with Medialink, their local agent in Hong Kong with a presence in China, partnered with Hong Kong-based toy figure maker A hidden Lab on a limited-edition "Creepy Popeye" art toy figure.
Designed by Spanish artist Cote Escriva, a limited-edition 300-unit run of the uniquely crafted vinyl figure was made available exclusively through online retailer Thundermates and quickly sold out. A Valencia-based illustrator, Escriva mixes street art, classic cartoons and tattoo art to create his eerie yet captivating designs. His work has been published in various design magazines and has been featured in numerous exhibitions, both collective and individual, in cities like Los Angeles, Singapore, Barcelona and Valencia.
Following the massive success of the initial collaboration, A hidden Lab followed the Popeye release with a limited-edition 300-unit run of a "Creepy Brutus" art toy figure in December 2020. Standing at approximately 28cm height and featuring Escriva's signature creepy style with exposed bones showing through cutaway sections on Brutus' arms, torso, and legs, both the original color and special mono versions of the Brutus figures sold out as well.
Popeye and Olive Oyl set to explore new opportunities to reach younger consumers who are seeking brands that merge digital culture with cool factor.
With this goal, Medialink brokered a partnership with Huawei Software Technologies Co., Ltd. for a collection of Popeye and Olive Oyl themed watch faces, available now across mainland China. Huawei Smartwatch users can download and install a selection of watch faces to bring a Salty Sailor twist to their wrist.
Building on the popularity of Popeye and his friends in China, King Features and Medialink are now looking to grow Olive Oyl's presence in the territory in 2021 and beyond with new partners and collaborations that capture her unique and independent personality.
About Medialink Group Limited
Medialink Group Limited (2230.hk) is a leading distributor of third-party owned media content headquartered in Hong Kong with a presence in China, Japan and South East Asia. The Group has been engaging in the business of media content distribution for over 19 years, and also operates the brand licensing business. Under the media content distribution business, the Group cooperates closely with media content licensors through entering into content distribution arrangements and distributes media content relating to animation series, variety shows, drama series and animated and live-action feature films. Under the brand licensing business, the Group is involved in licensing of various rights in relation to brands owned by brand licensors including 'merchandising rights' for the use in toys, apparels and footwear, health and beauty products, food and beverage; 'location-based entertainment rights' for events, theme parks, shopping malls, cafes and restaurants; and 'promotion rights' in the Asia Pacific region.