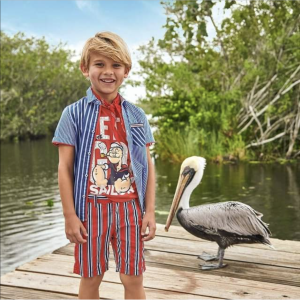 Popeye and Olive Oyl Take Center Stage in Original Marines Spring/Summer 2020 Collection Featuring Playful Sustainable Apparel for Boys and Girls
Popeye & Olive Oyl will be sailing the fashion seas with Original Marines, the fashion forward Italian brand for children's apparel!
Building on previous collaborations, Original Marines has selected Popeye and Olive Oyl to star in their Spring/Summer 2020 collections featuring an assortment of unique styles for boys and girls. The Popeye collection aimed at boys is gritty and playful, while the Olive Oyl selection for girls is lively and refined with fun rhinestones and applications. The collection is available now at OriginalMarines.com.
Original Marines has built a strong reputation as a leading producer and retailer for sustainable children's fashion in Italy. Following their company philosophy to offer quality garments at affordable prices, each Original Marines garment is OEKO-TEX 100 certified and the colors are all tested to avoid toxicity.
As Popeye continues to take the fashion world by storm in 2020, this latest collaboration with Original Marines follows recent collections with leading Italian fashion brands including Iceberg, BOB and Monnalisa.  The Iceberg Spring/Summer collection featured Icebergs' trademarked Pop art style and included a dedicated line of energetic sophisticated styles with Popeye and Olive Oyl. BOB chose Popeye for its latest seasonal men's collections for both Spring/Summer and Autumn/Winter.  To top it off, Monnalisa, the Italian brand and world leader in luxury children's wear featured the sophisticated and ironic nature of Olive Oyl for girl's garments and the playful and mischievous attitude of Popeye in their 2020 collection out now.
This new collection also furthers Popeye's commitment to environmental sustainability, following on the heels of a recent sustainable fashion collaboration with Benneton and the announcement that Popeye has joined forces with ocean conservation group, The SeaCleaners, for a co-branded merchandising campaign.
For more information and to check out images of the Original Marines Popeye and Olive Oyl collections, visit there Instagram for fun photos and amusing animations: www.instagram.com/originalmarines