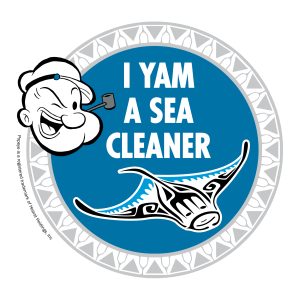 Co-Branded Merchandise Featuring the Iconic Sailor Man to
Benefit The SeaCleaners Organization To Come
King Features Syndicate, home to some of the world's most popular entertainment characters, today announced that Popeye is teaming up with the French environmental preservation organization, The SeaCleaners, to emphasize the importance of ocean clean up and conservation and to help raise awareness of their visionary efforts.
The SeaCleaners is an organization that focuses on long-term and worldwide preservation of the ocean and develops solutions to clear the ocean of floating plastic pollution. It integrates economics, social, human, educational and scientific perspectives to its projects.
Every year, more than 8 million tons of plastic waste are dumped into the ocean, killing more than one million animals, threatening biodiversity and human health. 80% of this pollution comes from the land. The SeaCleaners partnership with the iconic sailor man Popeye will work to raise awareness among future generations and educate them on the importance of this issue, as well as encourage everyone to become an agent of change to end this global scourge.
The partnership was brokered by King Features' French agent, M.J.A. Licensing, who will also work to secure multiple co-branded Popeye x The SeaCleaners deals for apparel, accessories, home goods and more. A portion of those proceeds will then benefit The SeaCleaners organization and their efforts.
About The SeaCleaners
Created in 2016 by Franco-Swiss skipper Yvan Bourgnon, The SeaCleaners acts for the long-term conservation of the oceans and the reduction of plastic pollution. The organization develops actions both at sea and on land. Their innovative solution is called The Manta, which will be the first deep-sea vessel capable of collecting and mass-treating floating ocean waste before it becomes fragmented.
Member Observer of the UN Environment Agency, and supported by the Prince Albert II of Monaco Foundation, the association has four objectives:
Protection of the environment, through the collection of floating waste.
Promotion of the Circular Economy, through the establishment of a revaluation loop for collected waste.
Development of a scientific approach, through the provision of the Manta as a platform for research and studies.
Awareness-raising through education and pedagogy, among affected populations, the general public and decision-makers.