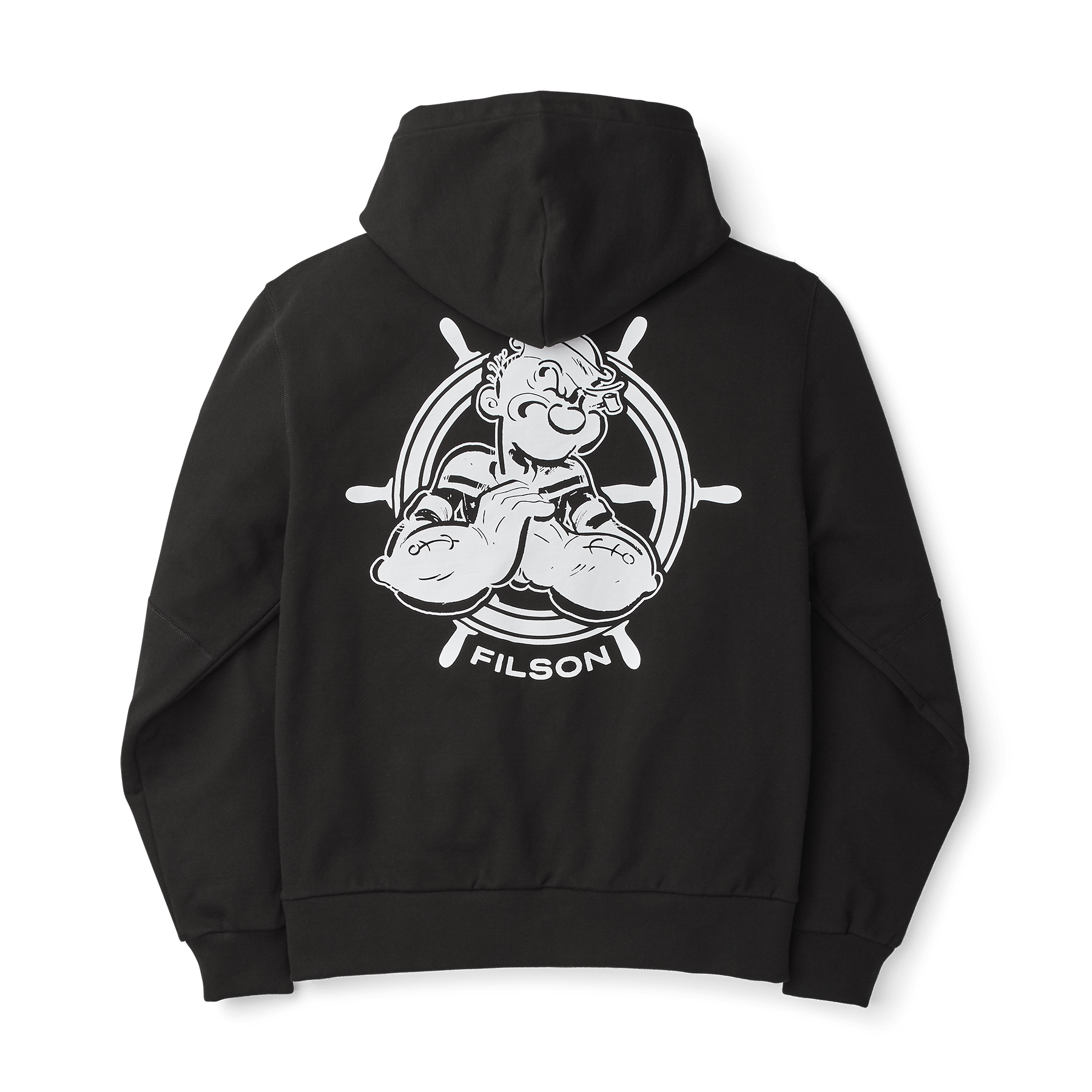 Filson
Announcing Popeye the Sailor Man limited-edition clothing, stickers and stoneware mug from Filson. Filson is an outfitter and manufacturer of unfailing goods for outdoor enthusiasts, launching in February the leading 2020.
The clothing collection features durable graphic tees and pullover hoodie with graphics of everyone's favorite spinach-eating sailorman. The Popeye short sleeve t-shirts are made with heavy-duty cotton, a rib-knit collar and come in both black and white, while the Popeye pullover hoodie in black is made with 100% cotton fleece, double-layer reinforced forearms, drawcord-adjustable hood and center kangaroo hand pockets.
In addition to the Popeye inspired clothing, Filson is also debuting a limited-edition Popeye sticker collection, perfect for decorating your vessel, skateboard or bike. Made locally in Seattle, the sticker pack features four individual Popeye designs made from durable, waterproof vinyl, paying tribute the comic-strip icon whose adventures entertained us for generations.
"King Features had an incredible year in 2019 celebrating Popeye's 90th anniversary and we are thrilled to cap it off with this limited-edition collection from Filson," said King Features Vice President and General Manager, Global Head of Licensing Carla Silva.
The Filson collection closes out King Features' year-long celebration for Popeye's 90th birthday, which included a robust merchandising program, featuring high-end fashion collaborations with HUF, Benetton, Scotch & Soda, new products from Zara and the launch of POPEYE's Barbershop & Shave Company—a special 90th anniversary collection of men's grooming products.
The birthday bash launched with the debut of "Popeye's Island Adventures," a new animated short series for children, airing exclusively on the Popeye and Friends Official YouTube channel and the highly anticipated "Popeye's Cartoon Club" comic strip series on ComicsKingdom.com.
The Filson x Popeye collection is available now and can be found on Filson.com with products ranging from $6-$145.
About Popeye
Sailor. Tough guy. Hero. Legend. That's Popeye. An underdog with bulging forearms, a mean uppercut and a love of canned spinach. Unassuming, unsophisticated and undeterred by a challenge, from the minute he walked into the comic strip, "The Thimble Theatre," and muttered his famous "Ja think I'm a cowboy?" line, Popeye the Sailor Man captured the hearts of millions of fans around the globe. As the star of his own comics strips and animated content on the big screen and small, Popeye became quickly ingrained in American culture, and today remains one of the most recognizable pop-culture icons in the world. Popeye is celebrating his 90th Anniversary in 2019! www.popeye.com
About Filson
Established in Seattle in 1897 to outfit prospectors headed for the Yukon, the company's 122- year legacy is built upon its reputation for honesty, quality and durability. Filson's long-lasting gear is the choice of explorers, adventurers, ranchers, hunters, anglers, engineers and anyone with a passion for the outdoors. Over a century after its founding, the Filson headquarters remain in Seattle, Washington. For more information, go to Filson.com.
Media Contact
Marley Gerber, DKC on behalf of King Features
Marley_Gerber@dkcnews.com