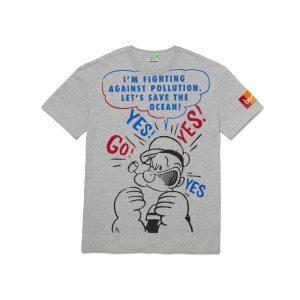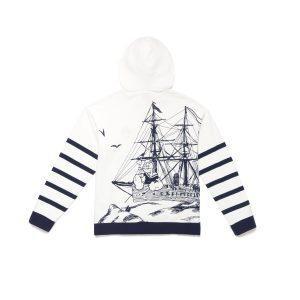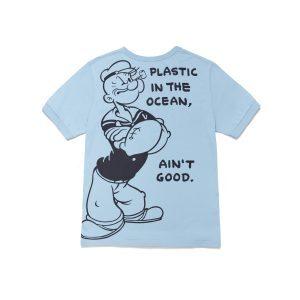 Fashion Brand Names Popeye the Sailor Man as Special Environmental Ambassador!
Benetton Group, one of the best-known fashion companies in the world, and King Features, a unit of Hearst and home to some of the world's most popular entertainment characters, just unveiled the Benetton x Popeye collection set to launch February 2020.  As a part of their Spring Summer 2020 an upcoming apparel collaboration featuring everybody's favorite Sailorman.
In addition to Popeye being featured in Benetton's Spring/Summer 2020 collection, the fashion-forward, eco-friendly brand has also enlisted everybody's favorite Sailorman to serve as their special environmental "green" ambassador,  putting his famous strength to work to protect the oceans. Popeye's image will appear on T-shirts, dresses, and sweatshirts in a variety of digital prints.
Sustainability is a very important issue for Benetton, whose research laboratories have developed natural, non-toxic dyes and innovative products made of ecological materials.  The Benetton x Popeye collections are aimed at men, women, and children and include an artistic touch, and bold graphics featuring Popeye and Friends on T-shirts, shirts, sweatshirts, dresses and a variety of accessories.
The Popeye x Benetton Spring Summer 2020 Collection will be available in stores worldwide beginning February 2020.
Fans can visit Popeye.com for additional updates on Popeye's 90th-anniversary celebration.
About Benetton – The Group
Today Benetton Group is one of the best-known fashion companies in the world, present in the most important markets in the world with a network of about 5,000 stores; a responsible group that plans for the future and lives in the present, with a watchful eye to the environment, to human dignity, and to a society in transformation.
The Group has a consolidated identity comprised of colour, authentic fashion, quality at democratic prices and passion for its work: these values are reflected in the the strong, dynamic personality of the brands United Colors of Benetton and Sisley.