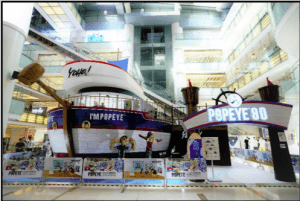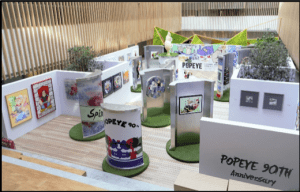 Popeye Joins Forces with YOHO! and Joy City Mall to Present
90th Anniversary Art Exhibition, June 22 to Aug. 4, 2019
Popeye has teamed up with YOHO!, the leader of pop culture, and Joy City, the popular shopping mall in Beijing, to present a collection of Popeye creative works and artistic installations.  The deal was brokered by King Features' local agent, Medialink.
In celebration of the spinach-loving sailor's 90th birthday, 50 artists from 12 countries around the world are participating in the Popeye exhibition at Joy City shopping mall by displaying art inspired by the salty sailor and his friends. The exhibition features more than 100 pieces of Popeye creative works, including traditional and classic art, technology, collectibles, and even a large double-deck, 8-meter vintage sailboat.
The exhibition and pop-up store have already sold hundreds of limited-edition Popeye products, some of which sold out on the first day. The Popeye 90th Anniversary Exhibition opened in June and runs through Aug. 4, 2019, at the Joy City Mall.
The art exhibition continues King Features' year-long celebration for Popeye's 90th birthday, which includes a robust merchandising program featuring high-end fashion collaborations with HUF and Scotch & Soda, new products from Zara, and the launch of POPEYE's Barbershop & Shave Company—a special 90th anniversary collection of men's grooming products available at www.popeyesbarbershop.com.
The birthday bash launched with the debut of "Popeye's Island Adventures," a new animated-short series for children, airing exclusively on the Popeye and Friends Official YouTube channel, and the highly anticipated "Popeye's Cartoon Club" comic strip series on ComicsKingdom.com.