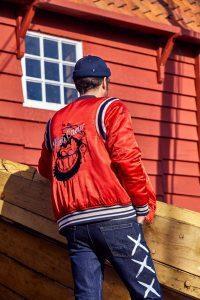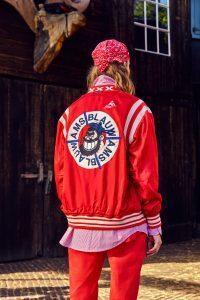 On-Trend Apparel for Men, Women and Children Now Available in Stores and Online  
Get ready to get your villain on: As part of Popeye's 90th anniversary year, King Features and fashion-forward clothing line Scotch & Soda have unveiled The Boathouse, a new nautical-themed, limited-edition capsule collection starring Popeye the Sailorman's nemesis, Bluto—or Brutus, as he's known in Scotch & Soda's hometown of Amsterdam. In custom graphics, Brutus takes center stage across souvenir jackets, while nautical cartoon scribbles decorate shorts, shirting and more.
The Scotch & Soda Boathouse collection features apparel for men, women and children and includes denims, Hawaiian shirts, overalls and varsity inspired jackets, as well as sweats and hoodies. The color card is a tight palette of monochromes, black and white washes with pop-accents of lifeguard red. The collection also features a variety of fun accessories including hats, caps, bags, belts, scarves, phones cases and laptop sleeves. Fans can show off their sailor swagger in style this summer with items available now in Scotch & Soda stores and at scotch-soda.com.
With this limited-edition Brutus capsule collection, Scotch & Soda becomes the latest in a string of brands tapping into the Popeye universe, embracing the iconic look and feel of one of the most beloved characters of the last 90 years. Other brands paying homage to "Popeye and Friends" include popular streetwear brand HUF and the recently launched Popeye's Barbershop and Shave Company, a special 90th Anniversary line of men's grooming products featuring Popeye and Bluto.
You can check out the Scotch & Soda Boathouse capsule now at www.scotch-soda.com.
Fans can visit Popeye.com for additional updates on Popeye's 90th anniversary celebration.
About Scotch & Soda
Scotch & Soda is inspired by the world and curated by Amsterdam. A team of passionate discoverers and collectors, scouring the globe for that painting, poem, vintage piece, ruin or artefact that sparks our never-ending curiosity. Treasures uncovered on worldly wanders are poured into collections and signature looks that clash eras, classics, places of inspiration, meshing unexpected fabrics and patterns. Men's, women's and children's collections all start life at our canal-side design studio in a former church in the heart of Amsterdam. Scotch & Soda has over 250 stores and can be found at over 8000 retailers, including the best global department stores and independents, and in our webstore.