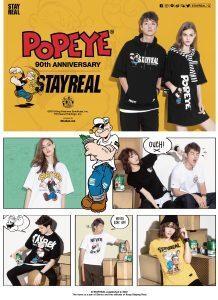 STAYREAL Apparel Collection and Artist-Designed ZCWO Figures Offer
Unique Twist on the Iconic Salty Sailor in his 90th Anniversary Year
 As part of Popeye's 90th celebration, King Features, with the efforts of their local agent, Medialink, is expanding the brand's presence in China this year with new collaborations that will help spread the spirit of the spinach-loving sailor to both longtime Popeye lovers and new fans. Popeye is establishing some street cred with his latest fashion collaboration with streetwear brand STAYREAL, while licensee ZCWO partners with celebrity artists from around the globe to develop a unique range of limited-edition vinyl art toys and figurines.
The POPEYE x STAYREAL crossover clothing collection features trend-forward Popeye designs on apparel including shirts, sweatshirts and more. Available now, the collection can be found at all STAYREAL stores in China, Taiwan and Hong Kong, giving Popeye fans an opportunity to support the cartoon sailor in style.
Hong Kong-based ZCWO has enlisted an array of well-known artists from around the world to design jumbo Popeye figures in their own diverse styles. The talent list, including names like Fools Paradise will bring a fresh outlook to this unique offering of Popeye product. The limited-edition figures and toys debuted at Shanghai Toy Show in April. The polished craftsmanship of the Popeye figures, designed by Eric So and Luasio Lopez, will be launched at the coming toy shows.
For more information about STAYREAL X POPEYE COLLECTION , please visit https://www.istayreal.com/event/2019/03/popeye/
Fans can visit Popeye.com for additional updates on Popeye's 90th Anniversary Celebration.