New Collection of Shave, Beard & Hair Grooming Products Celebrate POPEYE's 90th Anniversary and the American Dream!
Continuing Popeye's 90th anniversary celebration, POPEYE'S Barbershop & Shave Company opens. The line features an American Made range of Men's Grooming Products for the Heroic Sailor in all of us.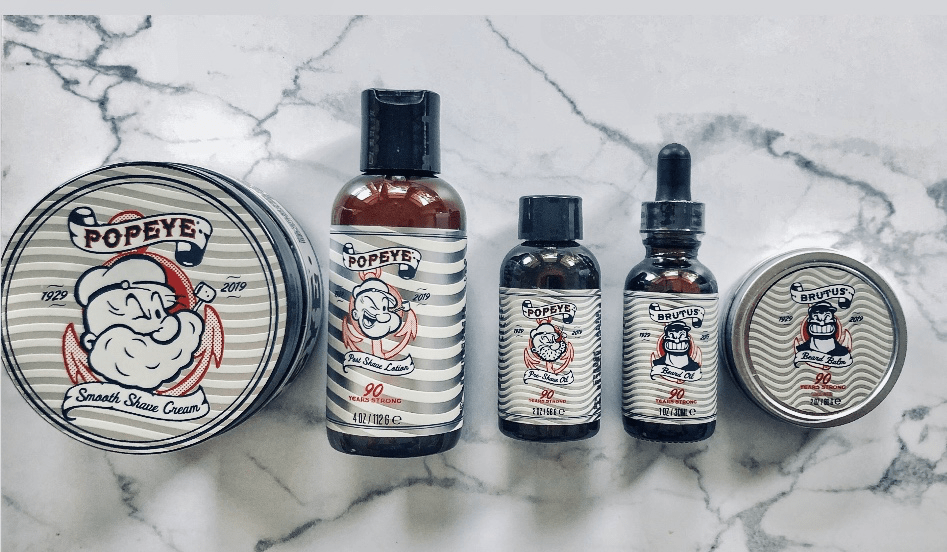 Available now, the product range includes; hair pomade, beard oil, beard balm, beard wash, shave cream, post-shave lotion, and pre-shave oil all sporting the iconic mugs of either POPEYE or BRUTUS. To support Brick & Mortar shops, the brand provides Tin Cans wrapped in custom POPEYE & BRUTUS artwork, die cut stickers & window clings.
"The passion behind this Popeye range made this partnership an ideal alignment for the brand in its anniversary year," said Carla Silva, VP and General Manager, Global Head of Licensing for King Features. "This unique grooming collection, featuring both Popeye and Brutus, celebrates the American tradition of barbershop culture in #PopeyeStrong fashion. The 'Smooth Sailing Through the Roughest of Beards' line is available now, just in time for Father's Day next month!"
Popeye is a staple in American culture and remains one of the most recognizable pop-culture icons in the world. His anniversary celebration launched with new children's YouTube series Popeye's Island Adventures, followed by the debut of the highly-anticipated comic strip series, "Popeye's Cartoon Club." Popeye's Barbershop & Shave Company collection upholds his legacy and continues this celebration.
Shop the collection at www.popeyesbarbershop.com!