Exclusive Vegan Ice Cream Flavor Available May 20 – June 2 in Select NYC Scoop Shops!
In celebration of Fleet Week in New York City, Van Leeuwen Ice Cream and Popeye are teaming up for a limited-edition vegan ice cream flavor coined Popeye's Fleet Treat!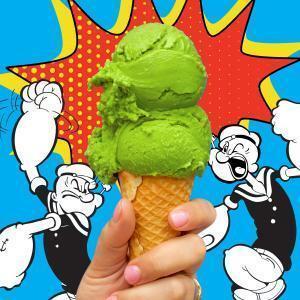 Popeye's Fleet Treat flavor will celebrate the original spinach-loving sailor's 90th birthday. This collaborative flavor starts with Van Leeuwen's vegan ice cream base featuringhousemade raw cashew milk, coconut cream, raw organic coconut oil, pure cocoa butter, and organic cane sugar. Then, to infuse the spirit of Popeye into the mix, the ice cream base is blended with organic spinach, extra virgin olive oil, turmeric, and sea salt. The result is a sweet and savory summertime treat that packs a flavorful punch!
Popeye's Fleet Treatwill be available for two-weeks only – May 20 – June 2 – at select Van Leeuwen scoop shops including South Street Seaport (224 Front Street), SoHo (61 West Houston Street) and Hudson Yards (20 Hudson Yards, Level 3) while supplies last.
This exclusive Van Leeuwen treat continues King Features' year-long for Popeye's 90thbirthday, which kicked off with a robust merchandising program and new entertainment including Popeye's Island Adventures, a new animated short series for children airing exclusively on the Popeye and Friends Official YouTube channel, and the debut of the highly-anticipated "Popeye's Cartoon Club" comic strip series on ComicsKingdom.com.
Single Scoop: $5.75 / Double Scoop: $7.75 / Triple Scoop: $9.75
About Van Leeuwen Ice Cream
Founded in 2008
17 scoop shops: 13 in NYC/ 4 in LA
Founded by brothers Ben and Pete Van Leeuwen and their friend Laura O'Neill
All ice cream is made in small batches in Greenpoint, Brooklyn
Learn more about Van Leeuwen by visiting their website and following them on Instagram!