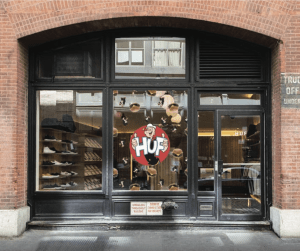 This spring, HUF proudly partners with Popeye® and friends on a knockout collaboration of apparel and accessories commemorating the iconic sailorman's 90th anniversary.
Putting the HUF spin on original illustrations, the capsule pays homage to the cartoon's iconic cast of characters with cameos by the spinach-fueled 'Sailorman' himself, his flirtatious and beloved girlfriend, Olive OylTM, and the notoriously hamburger-obsessed moocher, Wimpy.
Highlights of the collection include a vintage military-inspired Popeye Trench Jacket, an Olive Oyl Fleece Coaches Jacket, the all-over print Wimpy Burger Button Up, and a nautical-striped shirt featuring Popeye embroidery, alongside a range of fleece, tees, hats, beanies, socks, and a canned-spinach Can Opener Keychain.
To celebrate the occasion, HUF has teamed up with Los Angeles-based burger-specialists 'Golden State' and 'Burgerlords' on a custom HUF x Popeye burger offered at both locations starting March 8th, to 'gladly pay you Tuesday for a hamburger today.'