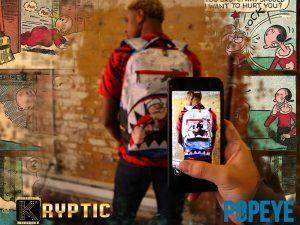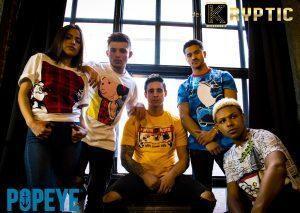 NEW POPEYE COLLECTION OF AR APPAREL AND ACCESSORIES MAKES ITS DEBUT 
 ¾ Fresh off the tail of Popeye's 90th anniversary celebration kickoff, King Features Syndicate, a unit of Hearst, announces it's partnership with groundbreaking augmented reality fashion brand, de•Kryptic, to develop a line of Popeye® apparel and accessories.  Popeye is the first licensed character to partner with the unique fashion house and the line, which includes augmented tees and backpacks, will be unveiled during the Agenda fashion trade show in Las Vegas.
de•Kryptic, powered by Boosted Art™, combines contemporary graphics and fashion style with technology to create something the world has never seen before, augmented reality apparel and accessories! de•Kryptic's clothing and accessories come to life with beautiful streaming content, 3D animations and rich sound effects that accompany the graphics.  And their unique technology offers consumers the ability to share their augmented reality experiences across all social platforms. Boosted Art, the world's first augmented reality merchandise viewer, is available for free download in the Apple and Google Play stores.
Fans can visit Popeye.com for additional updates on Popeye's 90th Anniversary Celebration.
About de•Kryptic
de·Kryptic, powered by Boosted Art™, is a collaboration of two well-known companies in their fields – virtual reality entertainment company Indoor Extreme Sports Inc. and global garment manufacturer Unite Cote, Inc.  Welcome to the 21st Century where clothes and accessories come to life where people connect with one another in a fun way, and de·Kryptic offers them an AR tool to do that. In-store retail shopping experiences will never be the same after de·Kryptic — brand licensing and collaboration possibilities are limitless.