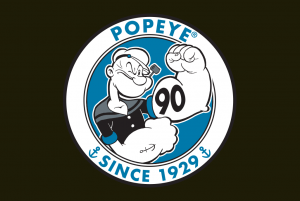 Get ready, Popeye's big birthday is coming!!  Today a full slate of new content and merchandise for the 90th Anniversary celebration was announced. And with exciting product
lines, events, and content set to help celebrate the iconic sailor man, 2019 is primed to be Popeye's biggest year ever.  Here are just a few highlights for fans to look forward to: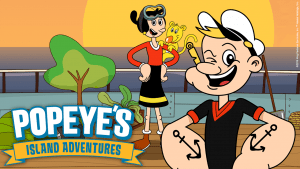 New Popeye Shorts Launching on YouTube
As announced in May, King Features and entertainment studio WildBrain will produce the first original Popeye content in over 10 Years!  These all-new shorts in the popular squash and stretch animation style will debut this Fall.
WildBrain has also taken over worldwide management of the "Popeye and Friends Official" YouTube Channel to enhance existing programming and grow the iconic Sailor Man's global
audience across the platform. The digital studio recently unveiled new compilations of cartoon favorites including Classic Popeye, Popeye and Son, and The Continuing Adventures of Popeye.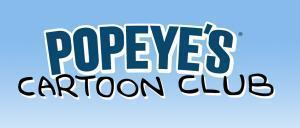 Popeye's Cartoon Club
In Popeye's early days, E.C. Segar often shared artwork drawn by fans at the end of the Thimble Theater comic strip. He called this "Popeye's Cartoon Club," and it gave ordinary readers a chance to share the page with Popeye. In honor of Popeye's 90th birthday, King Features is bringing Popeye's Cartoon Club back with a special twist. This time, Popeye is inviting cartoonists from around the world to contribute their own comic strip featuring the spinach-loving sailor and his friends; these new original strips will be published weekly throughout 2019.
Popeye Anniversary Products Around the Globe
Healthy Lifestyle: Popeye continues to stand for strength and fitness.  Now GameFood Company will make Popeye vitamins and protein bars available in Russia and Popeye nutritional supplements are being developed by Brasterapica Industria Farmaceutica in Brazil.
Apparel: Expect to see new clothing lines from HUF and Giordano, C-A-P Co, Aurimoda and Hanes. And an exciting new footwear collaboration with NotLikeYou, who will bring unique Popeye designs to custom Converse Chucks and Timberland Boots in Germany.
New Collaboration: An exciting new apparel collection is on the way from popular streetwear brand, HUF    
Collectible Toys and Figurines: New FUNKO POP! vinyl toys and hand-painted figurines and gift items from Arguydal
Limited Edition Pop-Art Prints: Popeye-inspired pop art from Mr. Brainwash and Super A
Costumes: adult costumes from Rubies in the United States and Canada and from Metamorph in Germany, Austria, Switzerland, Spain and France
Magazine promotions: for Olive Oyl® and Brutus™ with Magazine House Co., Ltd. In Japan
Check back for more updates soon!