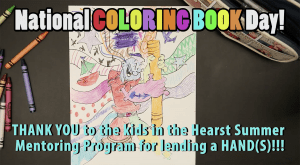 Popeye AniMinutes feted KIDS on Wednesday, August 2 in honor of National Coloring Book Day! Yup, there really is such a day and Popeye made the most of it by asking kids from Cardinal Hayes High School, Aquinas High School and A. Philip Randolph Campus High School in #NYC – (#The Bronx and #Harlem) to help color our Popeye AniMinute drawing.
The young people come to Hearst Tower for 5 weeks to participate in the Hearst Summer Mentoring Program. They are guided in fun and educational activities by volunteer members of the Hearst legal staff… And yes, all those hands coloring Popeye in the video are no sleight of hand. These kids are the real deal!
Check it out on our Popeye and Friends Official channel on YouTube!