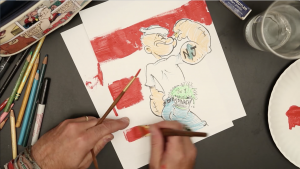 King Features flagship character Popeye the Sailor Man is changin' it up to become Popeye the Jersey Man. NEW Jersey, that is. At least for the day. Huh? What's up with that?
Starring in the latest Popeye AniMinute  launching today which is themed to honor the first-ever National NEW JERSEY Day, Popeye tips his hat to the third state to ratify the Constitution, sporting a Jersey tat as a Jersey tune from a major Jersey musician plays in the background. (Bruce Springsteen's "Paradise by the 'C'" is used by special permission).
And for all those fans that have been wondering which animator is behind the Popeye AniMinutes, short online Popeye films that now reside on the YouTube channel Popeye and Friends Official, all is revealed today! What better hand to do the quick-draw transformations than that of Frank Caruso, New Jersey native and the guy who has helmed Creative Services at Popeye Central (otherwise known as King Features) for the past 30 years!
#popeyestrong  #JerseyStrong!
Be sure to view the Popeye AniMinute National New Jersey Day video on YouTube here: https://www.youtube.com/watch?v=kYstQvh5pU4
Read more about all of this here:
http://www.backstreets.com/news.html
On the Asbury Park Press website here:
http://www.app.com/videos/entertainment/arts/2017/07/27/celebrate-national-nj-day-cartoonist-frank-caruso-and-boss/104051468/
And on the New Jersey's News12.com website here:
http://newjersey.news12.com/story/35991396/popeye-artist-combines-comic-with-springsteen