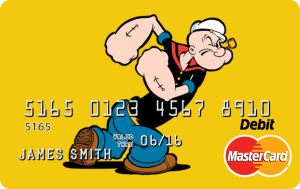 Prepaid debit card provider CARD.com has introduced a range of unique and heartwarming cards featuring Popeye, the world's most famous Sailor Man; his "Goil" Olive Oyl; his nemesis, Bluto; his "adoptid infink" Swee'Pea; and even the mysterious and magical Eugene the Jeep. Now every time fans use their card, they will be able to take charge of their finances while reflecting their passion for their favorite characters: CARD.com/Popeye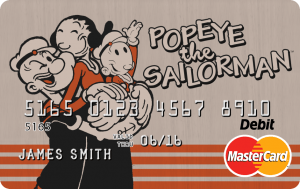 CARD.com believes that everyone should have a chance to make their dreams come true, and they are dedicated to creating a fair, fashionable and fun online alternative to traditional banks.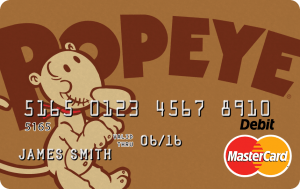 Although currently, one must be a U.S. citizen with a valid social security number to order any of the prepaid debit cards, the cards will "swipe" anywhere in the world where MasterCard is accepted.
Also, please note that these are not gift cards, but rather bank-issued, fraud-protected, FDIC-insured debit cards that come with an intuitive mobile phone app to help fans easily manage your funds. Enjoy the convenience of 23,000 in-network ATMs, no overdraft fees or late fees and 24/7 support. Plus with easy set-up for direct deposit, you can say goodbye to check cashing lines and fees!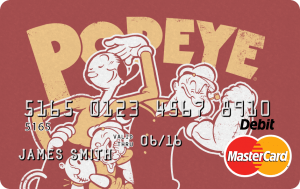 To learn more and start your worry-free shopping with Popeye and Friends, order your new Popeye prepaid card Popeye prepaid card HERE.