Ten years ago, in an event coordinated with the National Council for Adoption, Popeye officially adopted Swee' Pea." This is the most special day of me life," the proud papa declared.

After more than 70 years of serving as a dedicated parent, POPEYE THE SAILOR MAN officially finalized the adoption of his beloved SWEE'PEA in a special ceremony hosted by the National Council For Adoption in New York City on November 21, 2004. Celebrating POPEYE's role as a model father for baby SWEE'PEA and as an inspiration for adoptive parents everywhere, official recognition of POPEYE as SWEE'PEA's legal parent was the centerpiece of its annual 'Kids at Heart' event commemorating National Adoption Month.
SWEE'PEA has accompanied POPEYE on most of his adventures, but many fans have long been uncertain of just how the two came together. Although he lives with POPEYE, SWEE'PEA is not the child of POPEYE and his longtime girlfriend, OLIVE OYL.
Baby SWEE'PEA arrived on POPEYE's doorstep July 28, 1933 when SWEE'PEA's mother left him there, knowing the trustworthy sailor would protect him. POPEYE's home immediately became a safe haven for SWEE'PEA and the two bonded. POPEYE refers to SWEE'PEA as his "adoptid infik" but had never been granted official custody – until now!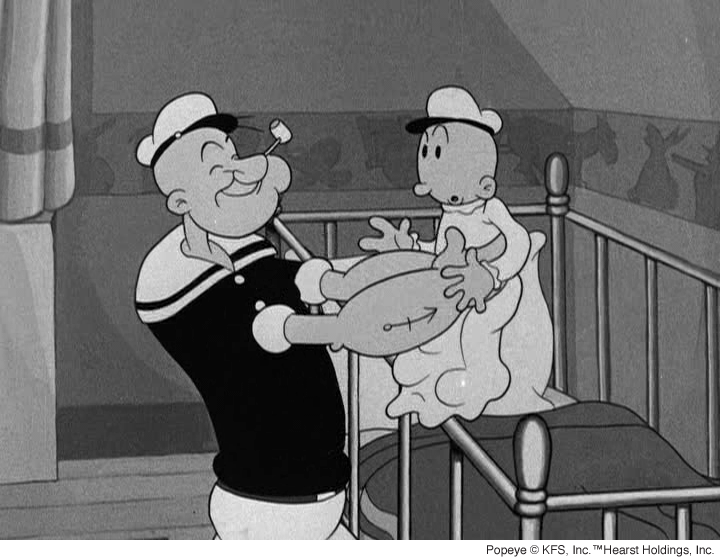 On the day of the adoption ceremony, POPEYE said, "I yam so happy that me li'l SWEE'PEA and I will offickially be Pappy and son. I have raised him as me own since that fateful day when I founds him at me door and now I yam proud to legally adopt him."
The adoption was officiated by Judge Greg Mathis of TV's "Judge Mathis" show.