The well-known Japanese graphic artist, Shinzi Katoh, is developing designs for both Betty Boop™ and Popeye®, which will be licensed for products in Japan and subsequently by King Features and its agents throughout the world. King Features is the worldwide licensor for Popeye and, working closely with Fleischer Studios, worldwide exclusive licensing agent for Betty Boop.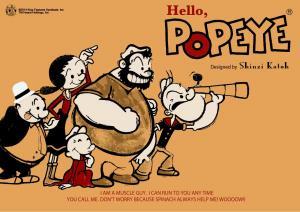 "When I was a child, I saw Popeye and Betty Boop for the first time on an old black-and-white TV and I thought that they were spectacular leading stars from a distant land," said Shinzi Katoh. "This collaboration was very meaningful for me. I am pleased that I can convey to people across the world that same excited feeling I felt when seeing Popeye and Betty Boop for the first time."
Shinzi Katoh began his career as a commercial designer in the 1970s and established his own company, Shinzi Katoh Design (SKD), in 1988. He has created numerous graphic designs, as well as many high-profile design collaborations with global brands such as Disney, Paddington Bear, and Hello Kitty.  SKD designs and also licenses a variety of print, textile and fancy goods sold in two Shinzi Katoh stores plus 300 other retailers in Japan.  Shinzi Katoh products can also be found at the MoMA store in New York, Le Bon Marche Rive Gauche in Paris, and Hyundai department store, Korea among others.
As both King Features and Shinzi Katoh were seeking exciting new collaboration partnerships, King's Japanese agent, Copyrights Asia (which represents both licensors) was able to bring both parties together.
The first Popeye collaboration designs will be revealed at the Tokyo International Gift Show in early September, followed by a European roll-out at Brand Licensing Europe in October.