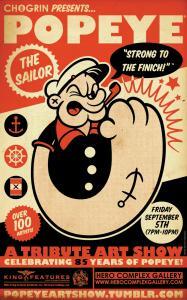 Curated by Ecuadoran artist and Popeye uber-fan CHOGRIN in collaboration with King Features Syndicate, "STRONG TO THE FINICH! AN OFFICIAL POPEYE TRIBUTE ART SHOW" features more than 100 artists from around the world paying unique tribute to the legendary sailor, created by E.C. Segar in 1929.
The show, which is free and open to the public, will premiere on September 5th, 2014 at Hero Complex Gallery (7-10pm PST) and runs through September 21st, 2014. The show is sponsored by Popeye Spinach and Popeye Energy Drinks.
The Hero Complex Gallery is located at 2020 South Robertson Blvd., Studio D, Los Angeles, Calif. 90034 (Hcgart.com) and is open Wednesday-Sunday from 11 A.M. to 6 P.M. To see more artwork and get updates, go to: http://www.popeyeartshow.tumblr.com.
When asked what inspired the tribute show, CHOGRIN shared this story with us: "Growing up with a grandfather who was part of the Ecuadorian Navy, I always associated him, Manuel Game Peña, with Popeye the Sailor Man. He fought in many battles and was my hero, like Popeye.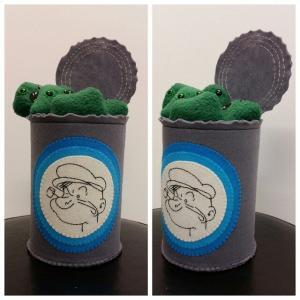 "During my art school education I became fascinated with Popeye again by learning about and appreciating the Fleischer brothers and their unique animation that made Popeye such an icon. Through this appreciation I began to collect the Popeye DVDs, watching all the special features, and making note of all the people who were responsible for bringing Popeye to life and keeping him alive today.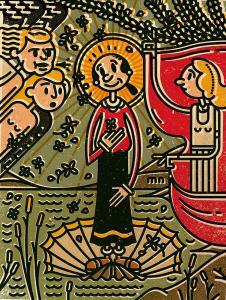 After art school I began working in the design and illustration industry, which led me to do art shows with different artists as a sideline. Soon five art shows turned into 30, and, ever since I got into the swing of doing these shows, I have always said to myself that mounting an official Popeye show with King Features would be my Mount Everest of art shows.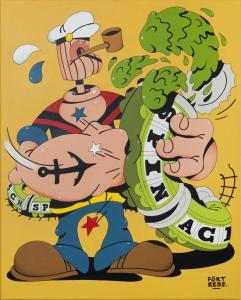 "And so here we are today. I am now working in the animation industry (Cartoon Network), inking cartoons for a living, and about to experience the premiere of the official Popeye the Sailor art show that I've been trying to do for many years.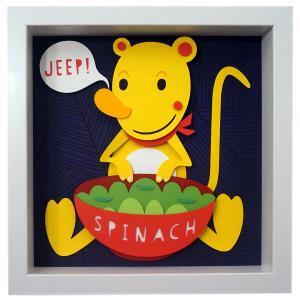 "The art show consists of various artists from around the world that I've gathered throughout my five-year experience of doing art shows with various galleries and organizations. Each artist paints, sculpts, even sews their own take on Popeye the Sailor. This all would not have been possible without the help and support of King Features Vice President/Creative Frank Caruso, who decided to give me a chance to pay tribute to such a cultural icon in comic strips, film, toys, and much more. A special thanks to Bob McKnight for mentioning Popeye artist, Stephen DeStefano, to me, and to Stephen Destefano for helping me get in touch with King Features.  Of course this art show would not have been possible at all without E.C. Segar, the creator of Popeye, who is also a big influence on my own personal artwork. I'd like to dedicate this art show to my grandfather, Jack Mercer, and Robin Williams."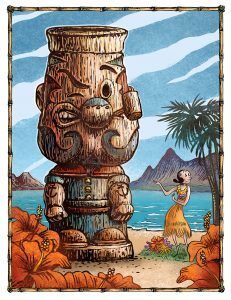 Thank you, CHOGRIN!
To see more artwork and get updates, go to: http://www.popeyeartshow.tumblr.com.