The "Summer Marine Discovery," a Popeye-themed promotion, kicked off on July 7 and runs through the end of August in Hong Kong.  Coordinated by LF Asia, this event is located at Gold Coast Piazza, a scenic waterfront area along the beautiful Castle Peak Bay. Featuring character sculpts and colorful backdrops for picture taking and character meet and greets, this venue provides visitors and fans with the chance to marvel at a collection of Popeye memorabilia.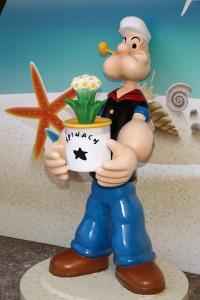 Popeye and Friends are featured in an impressive magical water world display which commands the Gold Coast Piazza. Young fans can receive small premiums, such as folders and stickers.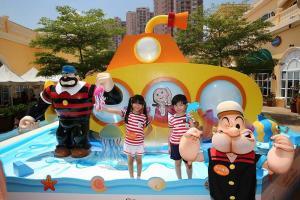 The Gold Coast Piazza attracts a good mix of locals, expatriates, and tourists with its seaside alfresco dining and a nearby beach, making it the perfect place for Popeye, Olive Oyl and Brutus (a.k.a. Bluto) to enjoy some summer fun while meeting adoring (and adorable) fans!