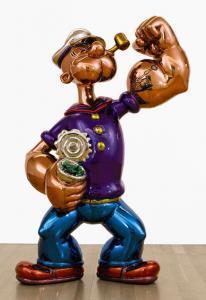 Today, let's call him Popeye the $28.2 Million Man. That was the  sale price against the estimate of about $25 million for Jeff Koons's stainless steel sculpture, "Popeye."  Beautifully finished in colorful, jewel-like glazes, the statue was part of a $364.4 million sale of contemporary art at Sotheby's in New York on May 14.
Casino magnate Steve Wynn bought the 6.5-foot-tall work and will display it in front of his Las Vegas hotel.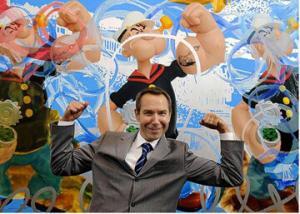 Koons first began referencing Popeye in his work in the early 2000s. Created between 2009 and 2011, Koons's sculptural rendition of the world-famous Sailor Man weighs in at a cool 2,000 pounds. In a classic, heroic pose, the King Features flagship character stands over-life-sized,  flexing his muscle and holding an open can of his signature leafy green veggie, spinach.
The sculpture is one of an edition of three, from which no example has appeared at auction until now. This Popeye has never been exhibited publicly. "Popeye" stands at the culmination of a long line of monumental sculptures and statues in which Jeff Koons has sought to re-frame the terms of high art for the masses.
In an auction preview video posted on Sothebys.com, Alex Rotter, Co-Head of Sotheby's Worldwide Contemporary Art Department, commented: "The history of Pop Art begins and ends with Popeye. From his first representations by Roy Lichtenstein and Andy Warhol in the 1960s, to the present three-dimensional crescendo by Jeff Koons a half century later, this ultimate American hero and self-made man has remained a true icon of both art history and popular culture."
Created by Elzie Segar, Popeye made his first appearance in 1929 as a minor walk-on character in the "Thimble Theatre" newspaper comic strip distributed by King Features Syndicate. Readers loved him and Popeye eventually took over as star of the strip. The mighty mariner personified the American dream, becoming a cultural phenomenon at a time of worldwide hardship during the Great Depression. Today, after more than eight decades, the all-American cartoon hero remains universally famous across the globe.
Read more about the "Popeye" sale at Sotheby's in the Wall Street Journal, Business Week, New York Times and Vocativ.