Happy Valentine's Day! Love is in the air today! Check out how one couple showed THEIR love for Popeye and Olive Oyl in a completely fun, original and creative way. They dressed up as Popeye and Olive Oyl in their engagement photos! Photographer Anne Herbert deserves all the credit for their professionally styled photos. The Inner Harbor setting in Baltimore, MD was the absolute perfect and romantic setting to tell Nick and Delia's story.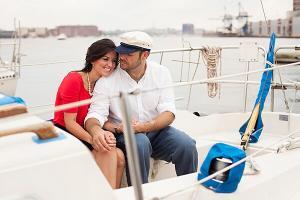 To see Anne Herbert's photographs from Nick and Delia's engagement shoot and to read the behind-the-scenes full story, please visit the Charm City Wed blog.
Best wishes to Nick and Delia! Thank you for including Popeye and Olive Oyl in your special day. We wish you both many years of love and happiness!
Many thanks to Rochelle Matheson for sharing their special love story.