Prepaid debit card provider CARD.com is bringing a very special debit card to the U.S. market: several unique and heartwarming cards featuring the world's most famous Sailor Man! Mirroring Popeye's famous associations with strength and good health, fans will be able to take charge of their finances while making a bold statement about their own fun-filled personalities. To sign up for a Popeye prepaid debit card online, click here.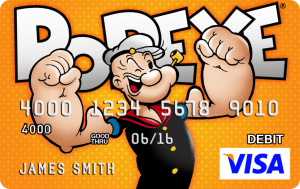 CARD.com believes that everyone should have a chance to make their dreams come true, and they are dedicated to creating a fair, fashionable and fun online alternative to traditional banks. CARD.com prepaid debit cards can be used everywhere Visa or MasterCard is accepted. The growing trend in prepaid cards is increasingly embraced by leading financial institutions such as Chase and American Express, and retailers such as Wal-Mart, 7-Eleven and Walgreens.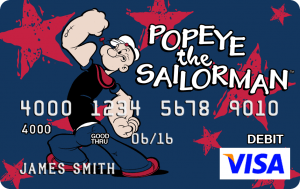 These are not gift cards, but rather bank-issued, fraud-protected, FDIC-insured debit cards with a user-friendly online banking experience. CARD.com Prepaid Cards include 55,000 in-network ATMs, free direct deposit, and free check deposit via the company's highly intuitive mobile app.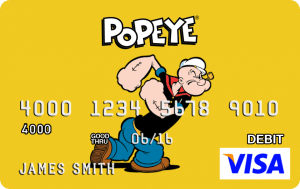 The Popeye prepaid card can be used everywhere Visa is accepted; it is 100% FDIC insured and offers a fully featured online banking experience, just like traditional branch banking—but without overdraft or late fees. To learn more and to sign up, click here.