The 34th Annual Popeye Picnic will take place this weekend, Sept. 6 – 8, 2013, in Chester, Illinois. Each year, this highly anticipated town event and Popeye-themed picnic takes place on the first full weekend after Labor Day in the hometown of Elzie Segar, creator of THIMBLE THEATER and the creative genius behind Popeye.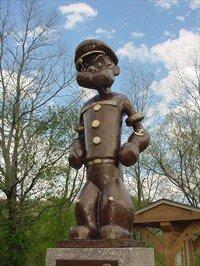 This year, a new statue of Poopdeck Pappy, Popeye's father, will be unveiled on the Popeye Character Trail. This statue marks the ninth statue displayed on the town's trail of Popeye favorites, and it will be located at the Cohen Recreational Complex. The trail now includes nine different locations around town, which has a population of 8,600 people.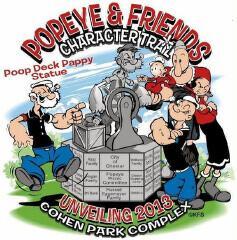 Other statues featured along the trail include: Popeye, located at the Welcome Center in Segar Park; Olive Oyl; Swee'Pea; Wimpy; Eugene the Jeep; Bluto; Castor Oyl and Bernice the Whiffle Hen; Sea Hag and Bernard the Vulture; Cole Oyl; and Alice the Goon.
This year's "Popeye on the River" Picnic is open to the public. Some activities or events have a cost, such as the carnival rides and food vendors. Scheduled activities include a film festival, a trivia night, a 5K run, a riverfront cruise, and much more. The full schedule of activities can be found online at: www.popeyepicnic.com.