Looking for a last-minute Father's Day gift? It's not too late to get the man "who has everything" a gift that he will remember and use every day: The Popeye Shave Collection from Razor MD! Not only will dear old Dad be strong to the finish, but he will be clean shaven too!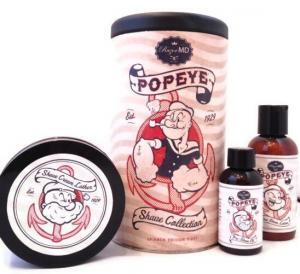 The Popeye® Shave Collection is a limited-edition gift set fragranced with a sandalwood scent and packaged in a custom-designed Popeye tin can. The shaving collection contains: Post Shave Lotion (4 oz.), Pre-Shave Oil (2 oz.) and a Shave Cream Lather (8 oz.). There is also a "Spinach Edition" gift set that is described as having a "sailor-wood" scent, which is available while supplies last.
The Popeye Shave Collection is available online at Nordstrom.com and at select grooming lounges, barber shops and brick-and-mortar stores throughout North America, including AveYou Beauty Boutique in Belmar, N.J. and Micks Barbershop in Honesdale, PA.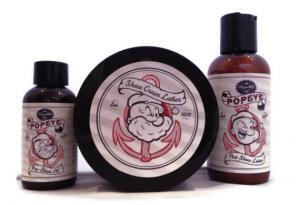 Wishing a very Happy Father's Day to all of our Popeye fans who are Dads and Pops!
Related Articles:
http://www.lasplash.com/publish/Style_and_Fashion_Gift_Guides/father-s-day-style-fashion-gifts-2013.php