Classic Popeye Comics #9 by Bud Sagendorf (w & a & c) is now on sale!
"This comic book contains the singular most bizarre and hilarious comic book story in the history of comic books and anyone that disagrees with me will feel the wrath of me twister-sock," proclaims feisty Classic Popeye co-editor Craig Yoe.
The comics historian, Craig Yoe, is referring to "Misermerites -or- I'd rather Have Termites!" Bud Sagendorf follows that right up in this issue with a wild Sappo story "The Experiment of the Sound Pills." Plus there's a bonus special story with Swee' Pea as a plundering pirate entitled Black Jack!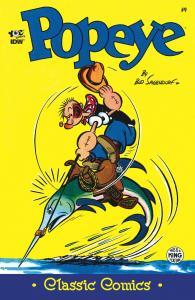 FC • 32 pages • $3.99 (US D)
To purchase a copy, click here to find a comics shop or retailer near you!