It's been a fun ride, but all good things must come to an end! Popeye #12, the last in the Popeye original comic book series from IDW Publishing, is now on sale. Cartoonist Roger Langridge has gicen a voice to Popeye and his salty crew throughout the entire series as the writer. So before we bid a fond farewell, we asked Roger to answer a few questions before he moves on to other spinach-colored pastures. Here's what he had to say…
Q: The Popeye comic book series is drawing to a close. What will you miss most about creating this wonderful original series?

Roger: I'm tempted to say "the money"! I'm joking, of course, but the benefits of getting paid for doing something you enjoy shouldn't be understated. I suppose I'll miss the fun of writing such distinct, idiosyncratic characters. They all have very distinctive manners of speech and bigger-than-life personalities, and grappling with those was a challenge I enjoyed. (Especially Wimpy, who is one of the all-time great comic creations!)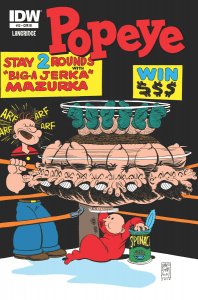 Q: Whose work do you most admire: Elzie Segar or Bud Sagendorf?
Roger: Cards on the table: Elzie Segar is on my personal list of the top three cartoonists of all time, right up there with George Herriman. I don't know if it's possible to compare anybody to Segar, since he's the one who came up with it all. Every one of us who came afterwards, Sagendorf included, is essentially doing a watered-down cover version of Segar's original tune. That said, I enjoy Sagendorf's comic-book adventures a great deal. They had a lot of the same spirit as Segar's work.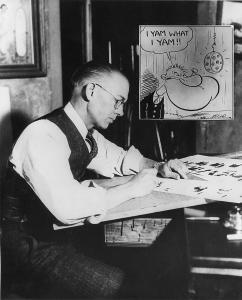 Q: Where did you find inspiration for each storyline?
Roger: There's a strange alchemy to coming up with ideas that I don't think anybody really understands. For me, sitting down at the keyboard and writing down whatever popped into my head was always my starting point; pretty soon a few ideas would appear to have some connection, so I'd string those together and before long a story would start to present itself. One thing I would try to do is to have a mix of humour, adventure and sentiment, avoiding hitting the same notes every issue – I didn't want the stories to become too repetitive. I'd generally come up with stories in batches of four, which would keep me going for four issues; then I'd leave it a few months before starting the process all over again.
Q: Where would you like to see this series have a place in the Popeye's long, illustrious comics history?

Roger: I hope it will be remembered with some affection! But who knows? It only ran for twelve issues, so it's only ever going to be a footnote compared to Segar's and Sagendorf's runs. I like to think we treated the characters with respect, and that the series might be remembered fondly for that reason.
Q: Of the twelve Popeye comic books, is there one that stands out as a favorite?
Roger: I think it would be a toss-up between Popeye #3, the one illustrated by Tom Neely with Popeye fighting The Phantom Crusher, and Popeye #12, which guest-stars Barney Google (another favourite of mine) and which I got to do entirely on my own, from script to art to colouring. But I'm proud of them all.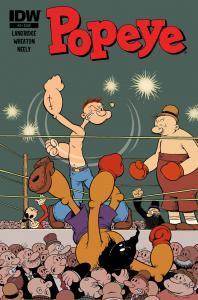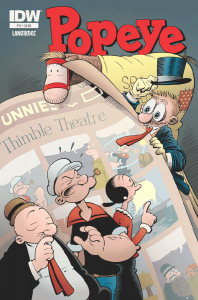 Q: What can comics fans expect to see from you in the near future?
Roger: I've recently finished writing a Rocketeer series for IDW (Rocketeer: Hollywood Horror), which still has a couple of issues to run at this writing. The art is by J. Bone and Jordie Bellaire, and it's gorgeous! Coming up, I'm drawing a Doctor Who story for IDW (them again!). In my spare time, I'm writing a Buster Keaton-inspired Fred the Clown graphic novel, returning to a character of my own creation whose comic-book title I used to self-publish between 2001 and 2004. I'm probably going to serialise that on my website once I've got the script nailed down, starting in a month or two. There's other stuff in the pipeline, but I'm afraid I have to keep quiet about that for now!
Note: To purchase a copy of Popeye #12, click here to find a comic book store near you or shop online at http://shop.idwpublishing.com.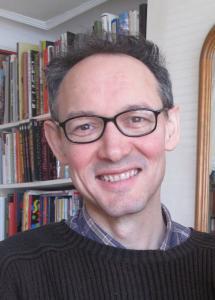 About Roger Langridge
Roger Langridge has been producing comics for over twenty years. Works of note include: the Harvey Award-winning Muppet Show Comic Book and Thor: The Mighty Avenger; other works include his own self-published title Fred the Clown, which was nominated for a number of Harvey and Eisner awards, and the Eisner Award-winning Lewis Carroll-inspired series, Snarked!, for Boom! Studios. Currently writing The Rocketeer for IDW and illustrating a new edition of Charles Dickens' A Christmas Carol, Langridge lives in London with his wife, two children and a box full of his own hair.
Related Articles