Popeye is the face of a new line of shaving products through a unique collaboration between King Features Syndicate and Razor MD®, a Florida-based manufacturer of natural men's shaving and grooming products.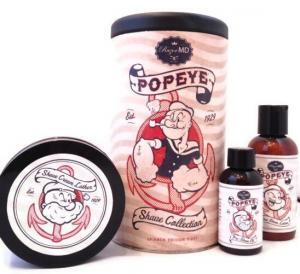 Starting March 31st, Razor MD will roll out the first of special edition men's Shaving Gift Sets that incorporate the likeness of Popeye and his signature clean-shaven look into a modern take on shaving and grooming products. The sets will make the perfect gift for Father's Day 2013.
The Popeye Shave Collection will be sold online at Nordstrom.com and will be carried in select brick-and-mortar stores, including AveYou Beauty Boutique in Belmar, NJ., as well as select barbershops like Micks Barbershop in Honesdale, Pa., and grooming lounges throughout North America.
The Razor MD Popeye Shave Collection is an all-natural, American-made line of hand-crafted shave products which will sell as a complete three-piece shaving gift, housed in a hand-made Popeye signature tin can. The recommended retail price will be $62 each. The gift set includes; (1) 8oz shave cream, (1) 4oz post-shave lotion & (1) 2oz pre-shave oil.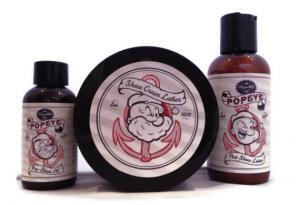 Related Articles:
Essential Homme: "Like Spinach For Your Face: Popeye + Razor MD Shaving Products"