"Popeye #8" from IDW Publishing will be released on Wednesday, 12/12/12. In "Popeye #8," Poopdeck Pappy's got a new sweetie… but there's more to her than meets the eye! And did somebody say… treasure map?
Join Popeye, Olive and Wimpy as they head for the high seas – and help Pappy overcome the trauma of his first bath in forty years!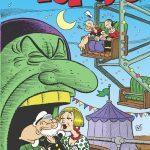 Popeye #8 was written by Roger Langridge (w) and drawn by Vince Musacchia (a & c). The comic book is 32 pages long and costs $3.99 (U.S.$) to buy.
To find a copy of Popeye #8, find a comic book store near you by clicking here.
Click link for for Popeye No. 8 preview: popeye-ongo-008-preview
Related Articles
Fanboy Unleashed Review of Popeye #8