Popeye #6, the latest POPEYE comic book from IDW Publishing, is now on sale!
Popeye #6 was written by Roger Langridge with art drawn and colored by Ken Wheaton.
In Popeye #6, Hollywood's calling… and they want Popeye! With Wimpy in the director's chair, what can possibly go wrong? But who is the film's mysterious backer? And why is he trying to sabotage it at every turn? Laffs! Thrills! Popcorn! And (of course) plenty of spinach! Includes a Variant Dan Parent cover!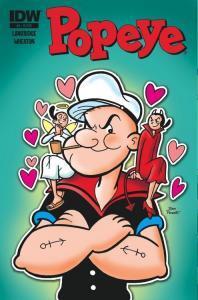 Popeye #6 is 32 pages long and costs $3.99 (U.S.$) to buy.
To find a copy of Popeye #6, find a comic book store near you by clicking here.

http://www.comicshoplocator.com/Home/1/1/57/575
Related Articles
"Popeye #6 Review" http://www.unleashthefanboy.com/comics/popeye-6-review/30062