IDW Publishing has released an all-new POPEYE original comic series—the first in more than 30 years— entitled POPEYE #1. Popeye fans can expect new adventures starring the world-famous Popeye the Sailor Man and his crew of friends, including Olive Oyl, Bluto, Wimpy and Swee' Pea, as well as future appearances of Poopdeck Pappy, Alice the Goon, King Blozo, Oscar and Rough-House.
Comics industry star Roger Langridge wrote POPEYE #1 and will pen the entire POPEYE comics series. Joining Langridge to bring Popeye back to comics is rising-star artist Bruce Ozella. The monthly POPEYE series will be co-edited by IDW's co-founder and chief executive officer, Ted Adams, and renowned comics expert Craig Yoe.
"Ever since I was a kid, the two cartoonists who have had the biggest influence on me have been Carl Barks and E.C. Segar, so getting a chance to write POPEYE is quite a thrill," said Langridge. "I'm especially pleased that IDW have decided to go with a Segar-flavored interpretation. As much as I like some of the later versions of the character, for me, it's those early strips where the magic really happened. Just as well Segar drew everybody with big feet, because Bruce and I have some enormous shoes to fill!"
Pick up a copy of POPEYE #1 (retail price: $3.99 USD) at your local comic book shop today!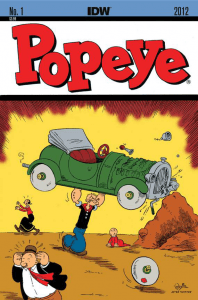 Related Articles
"He's Popeye the sailor man, and he's back with a new series" (USA TODAY)
http://www.usatoday.com/life/comics/story/2012-04-23/Popeye-comic-book-series/54490446/1
"Popeye returns ro comic books in new series from IDW" (The Oklahoman)
http://newsok.com/popeye-returns-to-comic-books-in-new-series-from-idw/article/3670049
"Roger Langridge Scraps with Popeye" (Comic Book Resources) http://www.comicbookresources.com/?page=article&id=36481
"All-New POPEYE Comics Debut in April" (IDW Publishing)  http://www.idwpublishing.com/news/article/2191/