Popeye the Sailor Man has a new home at Popeye.com. It is the only place online where you will find breaking news and the latest products featuring the world's most beloved sailor. Popeye.com is your best source for information on Popeye products, special events, contests, quizzes and news concerning the spinach-loving seaman, his "goil" Olive Oyl, his beloved son Swee' Pea and the rest of the infamous cast of characters.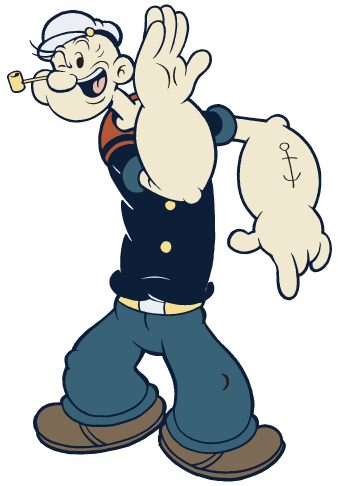 For the first  time online, comics fans and historians can read the entire Popeye Thimble Theatre series which is a collection of 247 comic strips introducing Popeye to the masses.
In the History section, Popeye fans can take a whirlwind tour though Popeye's illustrious history. From his early days on the comics page to his worldwide popularity in film, TV and licensing, all the events that led up and contributed to Popeye becoming one of the most enduring and beloved cartoon characters of all time are listed.
In the Merch section, fans can shop online and view the latest Popeye products featuring famous brands, such as Dolce & Gabbana, Moschino, Energie, Miss Sixty and Junk Food, and available through retailers like H&M, United Colors of Benetton, Bloomingdale's, Nordstrom, JC Penney and Sears.
Be sure to "Like" Popeye.com on our Official Popeye Facebook Page, so you won't miss the boat on the latest news about Popeye and his famous crew of friends.
Stay tuned because big things are coming to Popeye.com, starting on January 22, 2012!