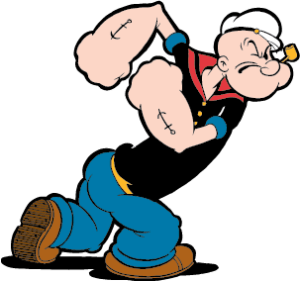 An All-CG, 3D Stereo Animated Feature Film Is In Development For Popeye Fans All Over
Sony Pictures Animation and Arad Productions will be teaming up with Popeye on the big screen! Sony Pictures Animation has set screenwriters Jay Scherick & David Ronn to write the screenplay for the all-new Popeye animated feature, based on the iconic sailor's comic strip and cartoon fame.
Screenwriter Mike Jones also wrote the screenplay adaptation for MINOTAUR TAKES A CIGARETTE BREAK, based on Steven Sherrill's 2000 novel, to be produced by The Gotham Group. The Gotham Group's Ellen Goldsmith-Vein and Lindsay Williams are producing and John Stevenson, who directed KUNG FU PANDA, is attached to direct. Jone's other credits include the screenplays EVENHAND (2001), AUTOMATA for Columbia Pictures, TOUGH GUY for United Artists, an adaptation of the story, "My Mistake," from the book I Thought My Father Was Good, and 15 YEARS TO LIFE, based on the prison memoir of Anthony Papa. Jones is also a well-regarded film journalist, who was the film festivals editor for Daily Variety and author of The Circuit blog. He has also been an editor at Filmmaker Magazine and IndieWire and was the program director for the American Pavilion at the Cannes Film Festival.
Bob Osher, president of Sony Pictures Digital Productions, and Scott Sassa, President of Hearst Entertainment and Syndication, were instrumental in their support of this project.
About Sony Pictures Animation
Sony Pictures Animation produces a variety of animated entertainment for audiences around the world. The studio is following its worldwide comedy hits, the 2011 hybrid live action/animated family blockbuster, The Smurfs (3D) and the 2009 mouth-watering Cloudy with a Chance of Meatballs (3D), with the family comedy Hotel Transylvania (3D) in Fall 2012. The division is also in production with Aardman Animations on two feature films, the CG-animated family comedy Arthur Christmas (3D) in theaters November 2011 and the stop-frame animated high-seas adventure, The Pirates! Band of Misfits (3D) in March 2012. Open Season 3, the third adventure in Sony Pictures Animation's successful Open Season franchise, was released on DVD and Blu-ray January 2011. In 2007, Surf's Up received an Academy Award®-nomination for Best Animated Feature Film. Sony Pictures Animation is an operating unit of Sony Pictures Digital Productions.
For more information on Sony Pictures Animation, please visit https://www.sonypicturesanimation.com