Tag Archives:
IDW Publishing
Check out the new release from IDW Publishing! Now on sale and ready to be added to your library collection: Popeye: The Classic Newspaper Comics by Bobby London Volume 1: 1986-1989.            
Just in time for Father's Day…Classic Popeye #11 from IDW Publishing will go on sale on June 12, 2013. Fans of Bud Sagendorf's work on POPEYE should run, not walk, to their nearest comic book retailer and pick up a copy…or a dozen!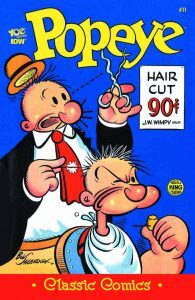 Featuring the art and writing of Bud Sagendorf, this 52-page comic book is printed in full color and has a cover price of $3.99.
Classic Popeye Comics #9 by Bud Sagendorf (w & a & c) is now on sale!
"This comic book contains the singular most bizarre and hilarious comic book story in the history of comic books and anyone that disagrees with me will feel the wrath of me twister-sock," proclaims feisty Classic Popeye co-editor Craig Yoe.