Check out the new release from IDW Publishing! Now on sale and ready to be added to your library collection: Popeye: The Classic Newspaper Comics by Bobby London Volume 1: 1986-1989.            
If you look at this "Bizarro" comic by Dan Piraro closely, you will see Popeye's goil, Olive Oyl, is pictured on the wall behind the gingerbread man and near the head of the tattoo artist.
Fans can never tell where Popeye, Olive or anyone else from the "Popeye" comic strip will appear next!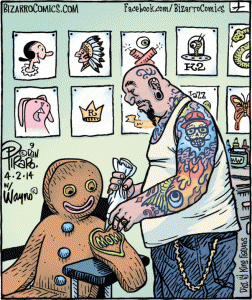 Credit: Dan Piraro Bizarro Comics
It's National Spinach Day in the U.S., but this leafy green vegetable is enjoyed around the world 365 days a year, with practically every international cuisine including it in their recipe repertoire.
Spinach is loaded with good-for-you nutrients like potassium, iron, folate and vitamins A and K. It even provides vitamin E, calcium and zinc. When combined with high vitamin C foods, like tomatoes or lemon juice, spinach provides a powerful infusion of iron too.
It's no wonder why spinach is Popeye's favorite go-to, pick-me-up vegetable for energy!
Continue reading →